Inwestorzy, natknąłem się dziś na interesujący wykres.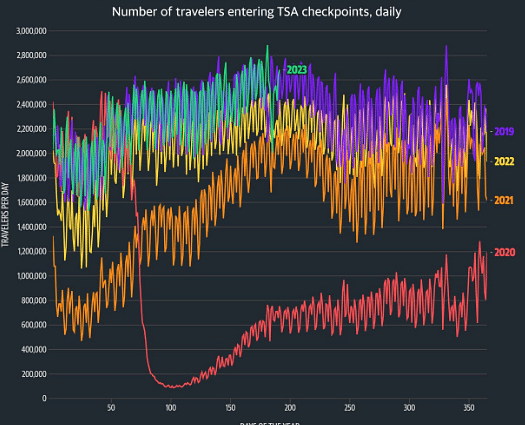 Wygląda na to, że ludzie z USA zaczynają coraz częściej korzystać z podróży lotniczych, a to oznacza, że linie lotnicze mogą dobrze sobie radzić i myślę, że wyniki linii lotniczych w następnym kwartale będą bardzo solidne.
Najważniejsze akcje amerykańskich linii lotniczych:
Akcje linii lotniczych są zmienne, ale z pewnością nie powiedziałbym, że to zła inwestycja.
Przyglądałem się spółce $DAL+0.3% i muszę przyznać, że całkiem mi się podoba i zamierzam przyjrzeć się jej bliżej.
Ponadto wczoraj $DAL+0.3% podał wyniki za I kwartał, które były bardzo solidne (wczoraj opublikowałem wyniki statusu DAL).
Jak postrzegasz te spółki i czy masz jakieś akcje z tego sektora w swoim portfelu?