Le obbligazioni statunitensi possono riscrivere la storia. Non accadeva sul mercato da 250 anni

I titoli di Stato decennali statunitensi potrebbero registrare quest'anno il terzo calo annuale consecutivo dei prezzi. Come sottolineano gli strateghi di Bank of America, si tratta di una situazione mai verificatasi nei circa 250 anni di storia degli Stati Uniti. I Bund sono scesi del 3,9% nel 2021, sono scesi di circa il 17% nel 2022 e quest'anno sono scesi di meno di un punto percentuale.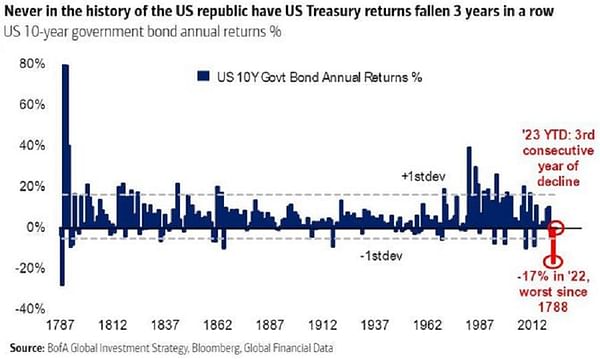 I prezzi delle obbligazioni statunitensi sono scesi significativamente a causa dell'aumento dei tassi di interesse. Tuttavia, lo strategist Michael Hartnett fa notare che anche per le azioni statunitensi il decennio in corso non è stato così roboante rispetto a quello precedente. Sebbene gli indici siano in crescita, l'espansione è guidata da un gruppo relativamente ristretto di titoli, principalmente tecnologici. "La realtà è che la crescita azionaria globale, in termini di ampiezza, è la più vivace quasi dall'inizio del millennio", afferma Hartnett.
Nonostante l'incertezza sulla sostenibilità degli attuali livelli dei principali indici azionari statunitensi e la prospettiva di una fine anticipata del ciclo di rialzi dei tassi d'interesse della Fed, tuttavia, le obbligazioni non si stanno trascinando. Secondo i recenti dati settimanali di Bank of America, 10,3 miliardi di dollari sono confluiti nelle azioni statunitensi, mentre solo 1,7 miliardi di dollari sono confluiti nelle obbligazioni.