Na którym projekcie realistycznie myślałeś, że zarobisz pieniądze, ale okazało się, że to SCAM?
Często pojawiają się tu wpisy na temat tego, które projekty będą się rozwijać lub osiągać 10-krotny wzrost, ale niewiele z nich dotyczy drugiej strony rzeczy, nad którymi się przepracowaliśmy. Prawdopodobnie każdemu z nas zdarzyło się coś przepracować, dlatego chciałbym się dowiedzieć, jakie projekty wydawały się wam uzasadnione, a okazało się, że było inaczej. Mam kilka pytań lub uwag, które mogą pomóc nam uniknąć SCAM-u w przyszłości.
Która moneta będąca scamem, w którą wierzyłeś, że jest legalnym projektem, ale okazała się scamem lub moneta stała się SCAMem?
Dlaczego uwierzyłeś w ten projekt?
Jakie były znaki ostrzegawcze?
Ile straciłeś?
Czego się z niego nauczyłeś?
Czego inni powinni się z niej nauczyć?
Dla mnie monetą, którą uważałem za legalną i z dobrym pomysłem, był Happycoin. https://www.thehappycoin.co/ Happy to moneta przeznaczona do wpłat na cele charytatywne itp. Wiedziałem, że w tym środowisku jest wiele oszustw, ale mimo to zainwestowałem około 120 dolarów. Firma Happy skupiła się na zdrowiu psychicznym i początkowo wydawało się to uzasadnione, ponieważ przekazywała środki na działania związane ze zdrowiem psychicznym, inwestując chyba 30% w różne organizacje charytatywne, a także istniał jakiś mechanizm spalania. Często organizowali też AMA /ASK ME ANYTHING/, co moim zdaniem było całkiem uzasadnione. Miałem tam ponad 100% zysku, mimo że nie wycofałem się, ponieważ był to wtedy sezon MEME i spodziewałem się co najmniej 1000%. A oto jak wygląda ten wykres.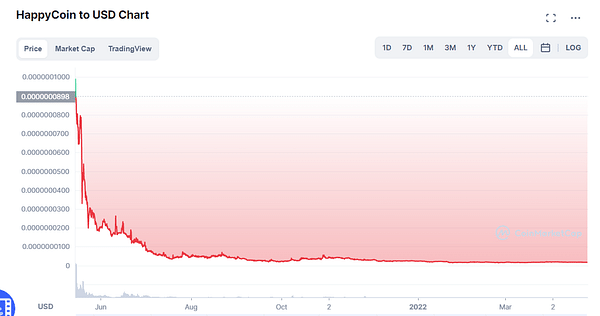 Źródło: coinmarketcap.com
Tak właśnie wygląda schemat projektu, w który wierzyłem HAHA. Nie wierzyłem w nie na dłuższą metę, ale pomysł był ciekawy i przynajmniej przez kilka X lat w niego wierzyłem... Dziś nie mogę nawet sprzedać tych kilku milionów monet, ponieważ opłaty są wyższe niż wartość portfela w tym projekcie. Jakie są Twoje doświadczenia? :D Łatwo jest dzielić się zyskami, ale spróbujmy dzielić się też błędami i wspólnie się na nich uczyć.