Twoja opinia na temat Roku? Czy 80% to wystarczająco duża przecena, czy też akcje te całkowicie zginą?
Informuję, że przy obecnej dekoniunkturze na rynku nie brakuje zakupów w dyskontach. Ale niektóre firmy śledzę od dawna - i nadal nie wiem, czy warto ryzykować wejście w ich akcje. Zawsze piszę, że jestem długoterminowym inwestorem wartościowym. Czasami jednak taka okazja sprawia, że się denerwuję. Co o tym sądzisz?
Pozwólcie, że przedstawię trochę kontekst tego tytułu. Dla tych, którzy w ogóle nie wiedzą.
Firma Roku $ROKU-0.6% jest producentem sprzętu i "sprzedawcą" treści multimedialnych. Oferują one dostęp do strumieniowej transmisji treści multimedialnych z serwisów internetowych.
Roku to akcje wzrostowe - a wiele z nich ma obecnie fatalną ofertę. Wydaje mi się jednak, że trudno to uzasadnić, skoro cena spadła z prawie 500 USD do około 100 USD. Z finansowego punktu widzenia zarabiają one pieniądze i osiągają lepsze wyniki niż ich EPS, i to dość znacznie. Jedyny niedźwiedzi argument, jaki przychodzi mi do głowy, to fakt, że są to akcje wywołujące pandemię świdra. Jednak mimo to ludzie nadal oglądają te programy. Z drugiej strony obawiam się, że spadek może być teraz jeszcze większy - jak to widzieliśmy w przypadku $NFLX-1.7%
Ale spójrz na to... spadek o 72% w ciągu ostatniego roku i brak reakcji? Co mnie omija?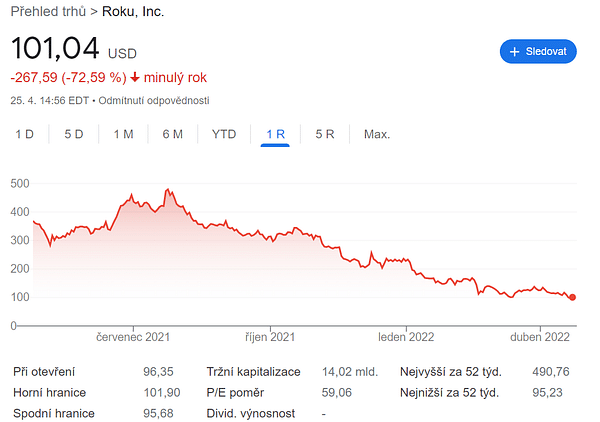 Czy jest tu ktoś, kto posiada lub przynajmniej szczegółowo analizował Rok i mógłby mi wyjaśnić, co dokładnie dzieje się w tym przypadku? Dzięki!
Przeczytać cały artykuł
za darmo

? To kontynuuj 👇
Czy masz konto? Następnie
zaloguj się
lub
utwórz nowy.