Cathie Wood and Ken Griffin don't have much in common except for this one stock. Could this be a great investment?
We couldn't have seen a more different pair of investors on Wall Street in the past year. Each is cut from a different cloth, and has a different investment strategy. Yet they have one thing, or one stock, in common.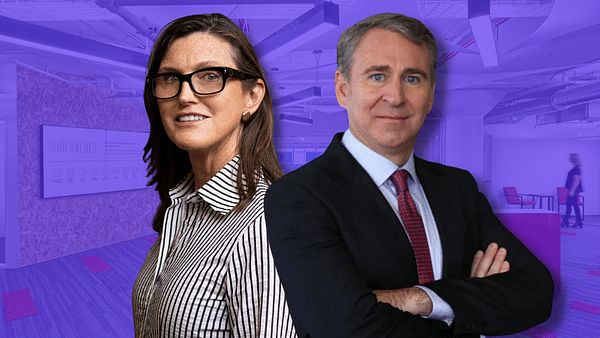 Each investor is different, which is why copying other investors doesn't usually work. There are exceptions, however, where two completely different investors agree on one stock. Those investors are Cathie Wood and Ken Griffin.
While Cathie Wood is a fan of innovative technology, and likes to invest in these risky stocks. In short, she likes companies that can make a breakthrough in their field, and possibly change the world. She's willing to take a fair amount of risk, but at the cost of high returns, as we saw in 2021, when her portfolio and fund grew at a meteoric pace. The year 2022 was not entirely kind to Cathie Wood, when her flagship fund posted huge losses.
On the other side is Ken Griffin, who managed to generate record returns last year, the likes of which have not been seen on Wall Street for a long time.
As you can see, these 2 investors stood at opposite poles in 2022. But there's one stock they both agree on. What could this mean for us? According to this, this stock is believed by Cathie Wood, who is known for her bets on innovative stocks, and also this stock is believed by Ken Griffin, who both is quite conservative and managed to make very decent money last year thanks to his strategy. That said, this stock may hold a lot of potential in the innovation space, and it may also be a fairly reasonable pick. Which stock is it?
Twilio Inc . $TWLO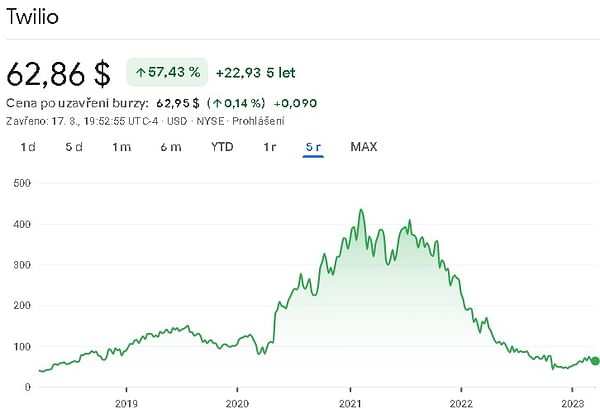 Twilio Inc. is a cloud communications platform company that provides a range of programmable communication channels for businesses of all sizes. The company's products and services enable businesses to communicate with customers through voice, messaging and video. Twilio's platform is cloud-based and API-driven, which means developers can easily integrate its features into their applications. This makes it easy for businesses to create their own communication solutions without having to invest in expensive infrastructure or technology.
Twilio operates in the communications services industry and has a wide range of customers, including healthcare providers, financial institutions, e-commerce companies and social media platforms.
Twilio's products and services include:
Programmable Voice - Allows developers to create voice applications using the Twilio API.
Programmable Messaging - Enables businesses to send and receive messages via SMS, MMS and messaging apps such as WhatsApp and Facebook Messenger.
Programmable Video - Allows businesses to incorporate video conferencing features into their applications.
Twilio Flex - a cloud-based contact center platform that enables businesses to create customized contact center solutions.
Super Network - a global carrier network that provides high-quality voice and communications services.
One of the company's competitive advantages is its ability to provide a range of communications solutions on a single platform, which helps businesses streamline their communications processes. In addition, Twilio's cloud platform is highly scalable, meaning it can support businesses of all sizes and stages of growth.
One drawback, however, is that the company operates in a highly competitive industry with other major players such as Vonage, Plivo and Nexmo. These competitors could offer similar or even better products or services, which could limit Twilio's market share.
In the fourth quarter, the company generated revenue of $1.02 billion, up 21.6% year-over-year, beating analysts' expectations by $20 million. Twilio experienced a year with more than 290,000 active customer accounts compared to 256,000 at the end of 2021. In terms of net income, the company earned $0.22 per share, rapidly beating analysts' expectations, who had predicted a net loss of $0.08 per share.
Wood has long been a big fan, but she bought an additional 583,314 shares of the company's stock in Q4, bringing her total stake to 7,409,945 shares. At the current market price, they are now worth $556 million. As for Griffin, he also threw his weight under the boiler in Q4, buying 1,554,498 shares. In total, he now owns 1,562,298 shares worth over $117 million.
In addition to Wood and Griffin, several other analysts also believe in this company, agreeing on an average target price of $84.78 per share.

This analyst expectation is supported by several arguments:
It has a dominant developer-focused communications platform that it returns to a product-led growth strategy.
It offers a growing suite of high-margin customer engagement software solutions, including Flex, Segment and Engage, which now operate as a separate business unit.
The company's new focus on increasing profitability coupled with actions such as a $1 billion buyback and CEO Jeff Lawson's plan to purchase $10 million of common stock on the open market.
The upcoming conversion of Class B shares into Class A shares on June 28.
WARNING: I am not a financial advisor, and this material does not serve as a financial or investment recommendation. The content of this material is purely informational.