Summary of the G7 Summit in Japan.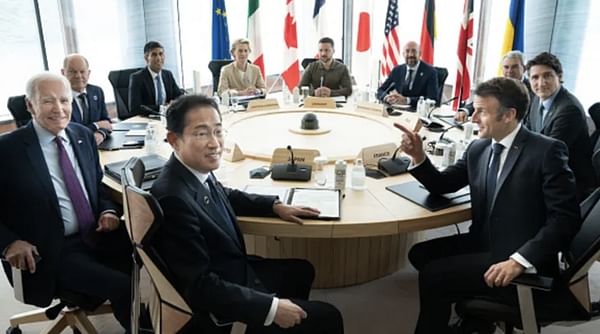 The G-7 have signalled to Russia that they are ready to support Ukraine and help it repel a Russian invasion.
They issued a message of distrust of China as a trading partner and stressed their commitment to help Ukraine.
G-7 leaders in Hiroshima discussed the response to the Ukrainian conflict, which has been ongoing for several months.
They considered the possibility of joint training programs for Ukrainian pilots on U.S. F-16 aircraft.
President Zelensky had a chance to enlist the support of Brazil and India.
Russia claimed to have captured the eastern Ukrainian town of Bakhmut after a months-long siege.
President Biden announced a $375 million extension of military aid to Ukraine.
They sent a signal of distrust toward China and planned to protect sensitive technology and trade with it.
They affirmed the importance of peace and stability in the Taiwan Strait and expressed opposition to Chinese military exercises.
President Biden met with the leaders of Japan and South Korea to discuss military interoperability and economic pressure from China.
Biden also addressed the issue of the US debt ceiling and requested a telephone conversation with the Speaker of the House of Representatives.
Here we have the US debt and this conflict. What is your view at all, because it has been around for a long time and, together with the intersection that is only being delayed in the US, this is not likely to go away.