Latest economic data shows that China is still in big trouble
Recently I wrote an article about the giants selling their shares that they bought in China. The Chinese economy was not looking good at all, there were a number of problems and threats, which is actually what today's article will follow. In the past week, the latest economic data has come to us, showing a few signs for possible improvement, but also pointing to other weaknesses and problems in the economy that will not just go away. Is China currently high risk from an investment perspective?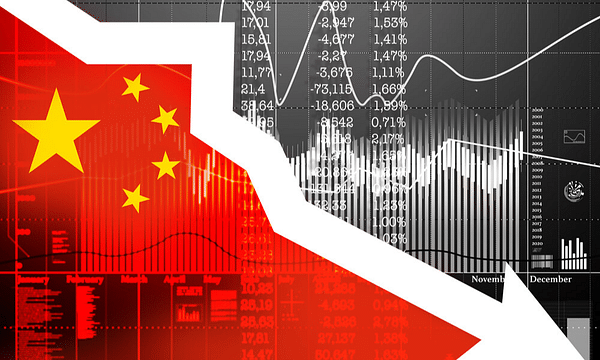 Is a collapse of the Chinese economy on the horizon?
I find this topic important and interesting as there have been many advocates of Chinese equities in the past, and most importantly it is one of the world's major economies. The latest economic data shows us a slight improvement in certain areas, but it is still not a lost cause. Why? We'll break that down below.
If this topic interests anyone in more depth, I covered it recently in this article: Is China's Economy Headed for Doom? Giants led by Warren Buffett are selling Chinese stocks in bulk.
The latest data
China reported data on Friday that showed a rebound in growth in August from the previous month. The data also beat expectations in all areas.
Retail sales rose 5.4% in August from a year earlier, the fastest since the January-Februaryperiod this year, according to data released by the National Bureau of Statistics. Overall, August retail sales beat the forecast of 3.5% growth.
Among the generally encouraging data, retail sales recorded the biggest surprise, boosted by passenger car sales, which helped compare with the low growth in August last year, pointed out Hao Zhou, chief economist at Guotai Junan International.
Online sales of physical goods also rose 12.8% in August from a year earlier, faster than the 10.1% growth in July.
Industrial output rose 4.2% in August from a year earlier, beating the 3.8% increase estimated in a survey of analysts. Despite year-on-year declines in major categories such as cement and steel, automobiles again proved a bright spot, with passenger car production up 33%.
Fixed asset investment rose 5.8% in the first eight months of the year, higher than the 5.5% increase forecast. Manufacturing investment rose the most, up 10% from a year earlier. Infrastructure investment grew at a slightly faster year-on-year pace than in July.
Real estate investment fell further from August, down 7.4% from a year earlier, compared with a 6.4% decline reported for the year (since July). I'm really not surprised at the decline here at all (I've already discussed the property market theme as well) 😄.
Persistent problems
National Bureau of Statistics spokesman Fu Linghui told reporters that insufficient domestic demand is a significant problem. He pointed to greater investment in infrastructure and manufacturing as ways to boost growth.
Fu also said the Covid epidemic and extreme weather since August have affected the construction of some projects and slowed investment growth.
The unemployment rate for 16- to 24-year-olds fell to 18.7 percent in August. However, it remained much higher than the overall urban unemployment rate of 5.3% in August.
China's consumer price index eased from two-year highs in August and posted a 2.5% year-on-year increase. Excluding food and energy, however, the index rose only 0.8%, again reflecting lackluster demand.
The slump in the real estate sector is also weighing on demand. A few weeks earlier, Chinese property developer Country Garden described the property market as having "quickly slipped into a severe depression".
Fu said that stabilising the property market requires more work and that the industry is still in a "downward spiral" despite some positive developments.
China's economy remained under pressure in part because of the covid controls that weighed on tens of thousands of residents and tourists in August.
The summer month was also marked by extremely high temperatures in parts of China, prompting temporary power rationing in some places.
Export growth slowed to 7.1% year-on-year in August, signaling that China's growth engine may be weakening as global demand falters. Domestic demand remained weak, with imports up only 0.3% from a year earlier.
"We expect that export support may continue to weaken over the next few months due to softening global demand," said Bruce Pang, chief economist and head of Greater China research at JLL.
Conclusion
It may not have been many days since my last article, but the latest economic data still does not suggest any major improvement. The property market continues to falter, covide continues to spike to extremes, exports are weakening and demand is falling. Despite a couple of positive indicators, I still see a number of risks here, which only confirm my view that this is a fairly risky area in terms of investing in Chinese equities. I believe that the world's second strongest economy will tackle it, but for now it can be quite erratic and I personally would not look for new investment opportunities in the Chinese market for some time. Additionally, investor Ray Dalio, who sold JD and Alibaba, is another resounding name fleeing China, joins the list of stock sellers from China. Everyone has to make their own picture, I don't want to spoil anyone's illusions, this is just my opinion.
Please note that this is not financial advice. Every investment must go through a thorough analysis.
Read the full article for
free

? Go ahead 👇
Do you have an account? Then
log in
. Or
create a new one
.