Does the popular fast food chain Domino's Pizza have a bright future?
According to many voices, a recession is coming. And in such a period, this particular food-related industry tends to be in the limelight because of its resilience. Does this mean the fast food chain will be overpriced because everyone knows it, or is it a hidden treasure?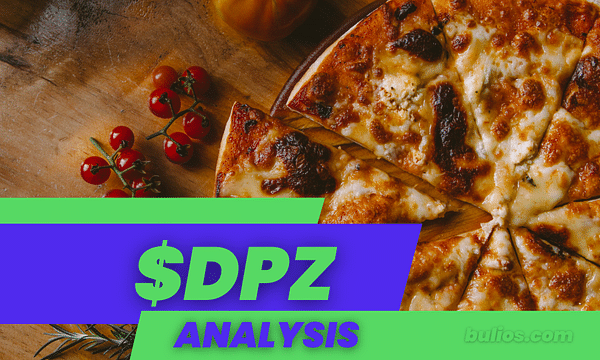 While the global restaurant industry was hit hard during the pandemic, Domino's Pizza $DPZ-1.7%, which focuses on delivery and delivery, has been able to maintain a steady growth trajectory. But could that change now?
Over the past decade, Domino's has seen very strong share price growth that has outperformed both the broader market and the sector, thanks to a fast and aggressive business. Over this period, the share price has risen 670%. After a record year in 2021, Domino's experienced a large decline in 2022, limiting its overall five-year growth to "just" 67%.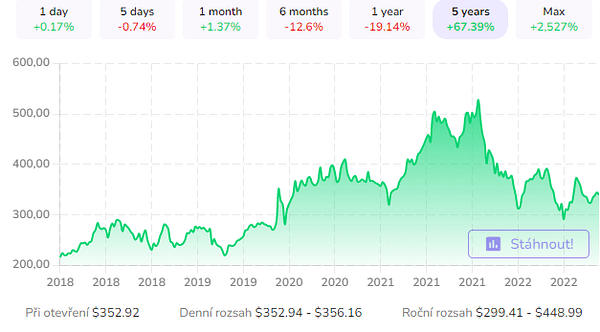 However, over the past year, it has posted a 19% loss. That's already pretty painful compared to the Consumer Goods sector's loss of just -0.79%. In a situation like this, Consumer Goods doesn't usually lose - as the sector shows, by the way. So the problem must lie with the company.
What is it?
Although Domino's operates in the grocery industry, strong growth and higher valuation multiples have caused the company to be less defensive and exhibit more aggressive price swings. Which can be seen in the chart. Another somewhat positive feature is that it pays a dividend. The stock has a 1.22% dividend yield. Some of this is due to the company's relatively aggressive business model itself. Founded in 1960, Domino's Pizza is the largest pizza delivery company in the world, with more than 18,000 locations around the globe that are operated primarily through a franchise model - and 98% of them. The stores provide customers with both delivery and delivery services. The company then earns profits in several ways.
From royalties - Ongoing fees that franchisees pay to Domino's based on a percentage of sales for the use of its brand. These fees help cover the cost of advertising and other support services provided by the company.
Franchise Fees - The Company charges new franchisees a one-time fee for the right to use the Domino's name and operate the business according to the Company's business model.
Franchise Store Supply - Domino's operates a central supply chain that manufactures and delivers food, equipment and other products to franchisees. The Company generates revenue by selling these products to franchisees at a markup.
Company-Owned Stores - Domino's generates revenue from food sales through a small number of stores in the United States that it owns.
https://www.youtube.com/watch?v=jfLU6gGICdk
The franchise model creates a steady cash flow for the company while opening new stores promotes growth. It also eliminates the need to conduct research in local markets and diversifies some of the operational risk away from the business. That this is a good model is confirmed by their competitor and world leader $MCD-0.4%.
Speaking of competition - the company is quite dominant in the fast food industry in general. The company has a very wide customer base as it is present in more than 90 countries. Domino's maintains a 20% share of the global fast food pizza market and a 22% share of the U.S. market.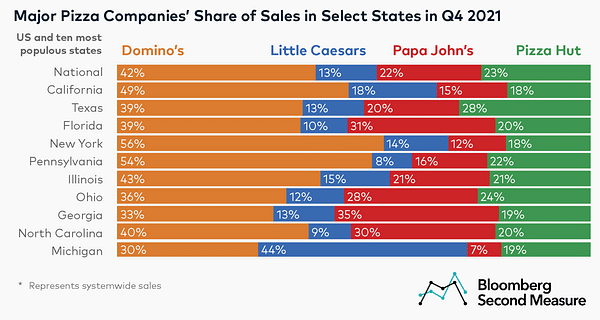 Despite its established market position, the company faces strong competition both in the US and abroad. The fast food restaurant industry is highly fragmented and price competition among established brands is intense.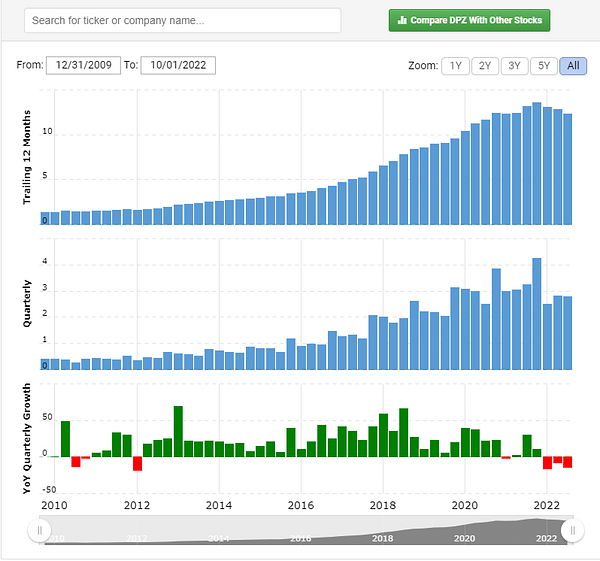 Domino's ability to generate revenue depends on the capacity of its stores. Over the past decade, the company has seen a steady annual increase in the number of stores operated under franchise. The global number of Domino's stores will increase from 9,351 in 2011 to 18,848 in 2021.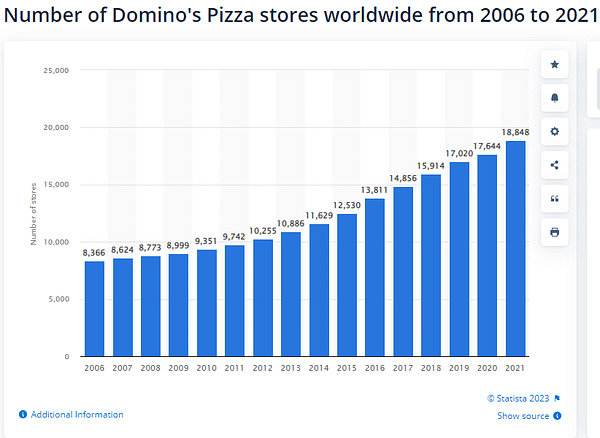 Management expects 6-10% year-on-year sales growth through 2025. The company also maintains strong profitability with gross and net margins of 26% and 10%, respectively.
Earnings per share growth, supported by share repurchases, is significantly outpacing revenue growth. Since 2010, earnings per share have grown at an annual rate of 23.4%, from $1.35 to $13.60. For 2022, analysts expect a slight decline in EPS to $12.10 and a rebound for 2023. Domino's has reduced the number of its outstanding shares from 56.4 million in 2012 to 35.4 million in 2022, underscoring management's pursuit of premium shareholder returns for investors.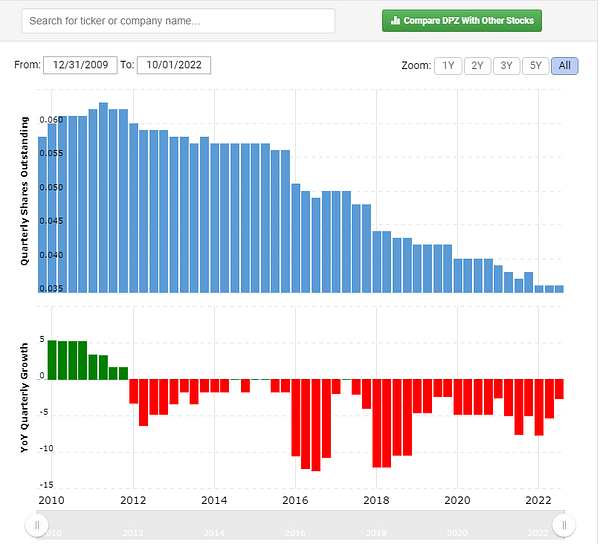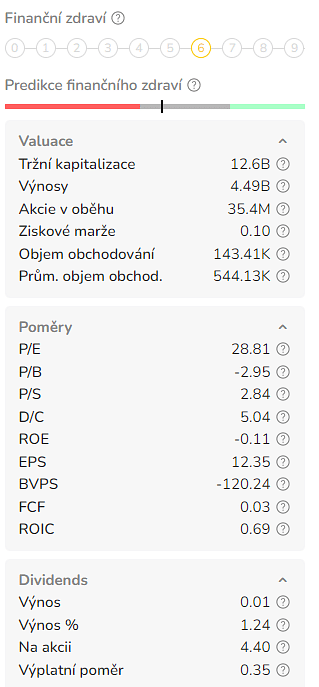 Dividend
Domino's currently pays a relatively low dividend yield of 1.24%. However, the company has seen 10 consecutive years of dividend increases. Over the past 5 years, Domino's dividend has increased by an impressive 19.0%. Domino's has also maintained a low payout ratio of under 40%. Experts consider the dividend to be relatively safe given the circumstances.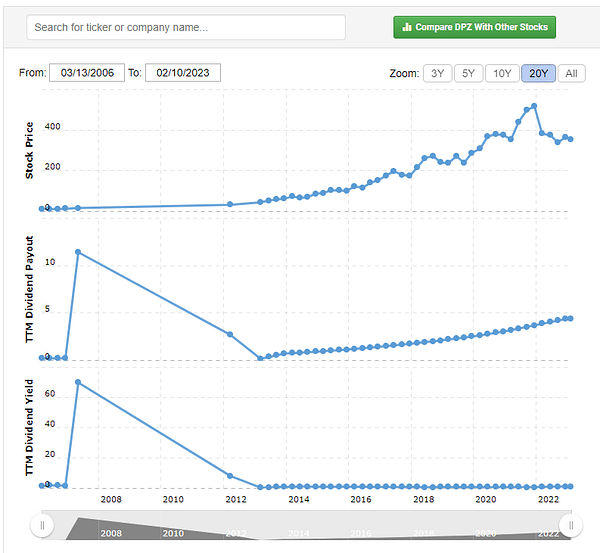 But now, unfortunately, to the less cheery part - valuation. At first glance, you can see that the company is somewhat expensively valued. A P/E of almost 29 is well above the market and industry average. It's not at all fitting for the defensive food sector.
On the other hand - Domino's is showing strong earnings growth, unlike many of its competitors. Moreover, from a historical perspective, the current P/E ratio is at one of its lowest levels. Domino's P/S ratio appears more reasonable at 2.9, down nicely from 4.8x at the end of 2021.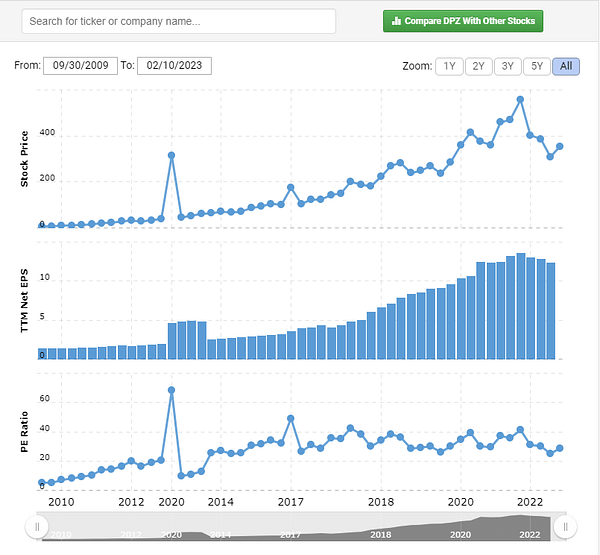 Disclaimer: This is by no means an investment recommendation. This is purely my summary and analysis based on data from the internet and other sources. Investing in the financial markets is risky and everyone should invest based on their own decisions. I am just an amateur sharing my opinions.
Read the full article for
free

? Go ahead 👇
Do you have an account? Then
log in
. Or
create a new one
.