Could Comcast be an interesting choice for your portfolio after losing nearly 40% of its highs?
Comcast has already lost over 40% since its 2021 ATH, a pretty massive drop. But we're still talking about one of the leaders in cable TV and broadband internet. What's going on with the company? Would an investment make sense for me at this point?
Comcast $CMCSA was founded in 1963 in Tupelo, Mississippi as a small family-owned cable television company. Since then, the company has expanded to become one of the largest providers of telecommunications, broadband Internet, cable TV and mobile-related services in the U.S. Comcast also acquired significant interests in media content when it bought NBCUniversal in 2011.
Comcast is the largest cable television provider in the US and is also one of the largest providers of broadband internet and mobile services. It offers services in 40 states and employs approximately 190,000 people.
In addition to providing telecommunications and technology-related services, Comcast also owns and operates some of the largest media companies such as NBCUniversal, Telemundo, DreamWorks Animation and Universal Parks & Resorts. In this way, Comcast produces and distributes film and television content, including both original programming and a variety of sports and entertainment content.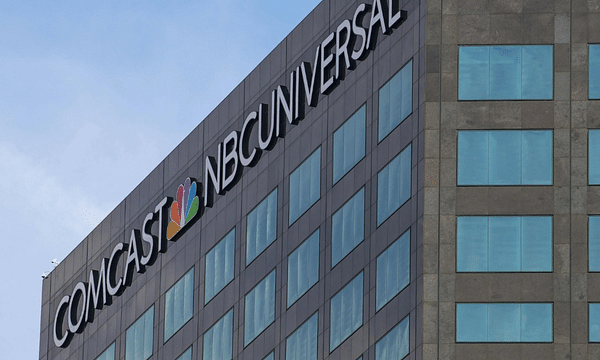 What makes the company interesting?
Comcast invests heavily in the development and innovation of technology, which enables it to provide the latest and greatest services to its customers. Comcast also has a highly developed infrastructure network that allows it to provide services with high quality and reliability. This infrastructure network also allows the company to respond quickly and efficiently to changes in demand for services.
Owned media content: Comcast owns and operates some of the most prominent media companies, allowing it to produce and distribute its own content. In this way, Comcast creates its own brand and strengthens its competitive position.
Large number of customers: Comcast has a large number of customers, which allows it to reduce the cost of providing services while gradually increasing its profit margins over time.
Market share: Comcast's market share is very significant, particularly in cable television, where it is the largest service provider in the US with a market share of approximately 28.6%. In broadband internet, Comcast is the second largest service provider in the US with a market share of approximately 25,6 %.
Comcast operates primarily in North American markets, but also has some international operations, particularly in the media content business.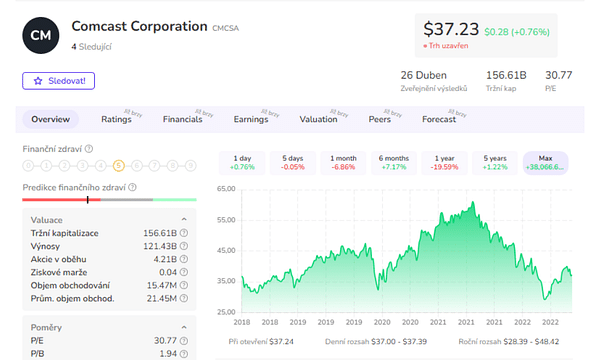 Let's take a look at the financials in recent years 👇
Revenue (in billions of dollars)
| | |
| --- | --- |
| 2017 | 84.53 |
| 2018 | 94.51 |
| 2019 | 108.94 |
| 2020 | 103.56 |
| 2021 | 116.40 |
| 2022 | 121.43 |
The average annual sales growth rate was about 7.5% over this period.
Net profit (in billions of dollars)
| | |
| --- | --- |
| 2017 | 22.71 |
| 2018 | 11.73 |
| 2019 | 13.06 |
| 2020 | 10.53 |
| 2021 | 14.16 |
| 2022 | 5.37 |
The average annual growth rate of net profit was about -20.6% over this period.
Horrible? Terrible? Yes, I get it. But let's look at the reasons for such rapid declines 👇
The company hasn't had it easy in recent years - One of the main reasons for Comcast's net profit decline is the loss of cable TV subscribers in the US. The company also faced stiff competition from streaming services like Netflix and Disney+, which offer cheaper and more attractive content. In addition, the company has had to pay high costs to operate and maintain its networks and facilities.
Another factor was the acquisition of Sky in 2018, which cost Comcast $39 billion. Sky is the European leader in pay-TV and broadband internet, but it also faces stiff competition from other providers. Comcast had hoped to increase its international presence and diversify its revenue by acquiring Sky, but so far it hasn't proven to be a successful solution.
There is another important factor that affected Comcast's net income in 2017. The company recorded a one-time tax charge of $12.7 billion this year due to changes in U.S. tax legislation.
This tax item was due to Comcast having to recognize deferred tax liabilities on its foreign assets and reassess its deferred tax assets at the new rates. This was triggered by the passage of the Tax Cuts and Jobs Act in December 2017.
However, Comcast has several strategies that could improve its net earnings in the future. Some of them are:
Invest in expanding and improving its broadband and mobile networks to offer faster and more reliable service to its customers.
Invest in developing and promoting its streaming platforms such as Peacock, Sky Q and Now TV to compete with other content providers and attract new subscribers.
Invest in social responsibility and support for communities, particularly low-income and minority communities, to provide them with access to digital technology and education.
Maintain or increase its dividend per share to maintain investor confidence and reward them for their loyalty.
Assets x Liabilities
Total assets grew from $186.8 billion in 2017 to $286.5 billion in 2022, an increase of 53%.
The largest component of assets was long-term investments, which grew from US$88.9 billion in 2017 to US$149.4 billion in 2022, an increase of 68%. This growth was mainly due to the acquisition of Sky and investments in streaming platforms.
Total liabilities grew from US$163.6 billion in 2017 to US$231 billion in 2022, an increase of 41%.
The largest component of liabilities was long-term debt, which grew from US$61 billion in 2017 to US$100 billion in 2022, an increase of 64%. This growth was mainly due to the financing of the Sky acquisition and the refinancing of existing debt at lower interest rates.

Underlying P/E, P/S and P/B ratios are all at good levels, even compared to peers. The problem, however, is the PEG ratio, which is quite poor, due to the company's inefficiency, which is suffering at the expense of the rise of streaming, while its main revenue comes from cable TV, which is experiencing a decline. We also see a relatively poor return here, which is linked to the reasons I've already broken down above.
Dividend
Comcast started paying a dividend in 2008 and has increased it every year since. It has a dividend yield of over 3% and a payout ratio of 29.6%, with the dividend growing at an average of 11.38% per year over the past 5 years.
What's next and what are the options at this point?
Comcast appears to have a three-pronged plan for 2023. The first is to compete with Roku, the second is to increase the profitability of its Internet service, and the third is to grow its streaming services. Comcast's possible strategies also include buying Viacom/CBS to get more content, or partnering with ViacomCBS to bolster its streaming offerings
As for the analysts, they expect the results may be flat at the moment and are still counting on a slight drop in the share price (quoted at $34). Personally, I'm not completely dismissing the company, but it's not attractive from an investment standpoint at the moment. In short, cable TV is losing and will continue to lose. However, it would be different if the company managed to put down more roots in streaming and internet services over time.
How do you like the company?
Please note that this is not a financial advisory. Every investment must go through a thorough analysis.