2 stocks that are down 80% and have high upside potential according to analysts
Recent turbulent years have moved markets up and down. But there are quality stocks that are trading below their fair value and the market is pricing them as if they are going to crash any day now. These companies could grow by tens of percent in the future. We will now look at 2 such cases.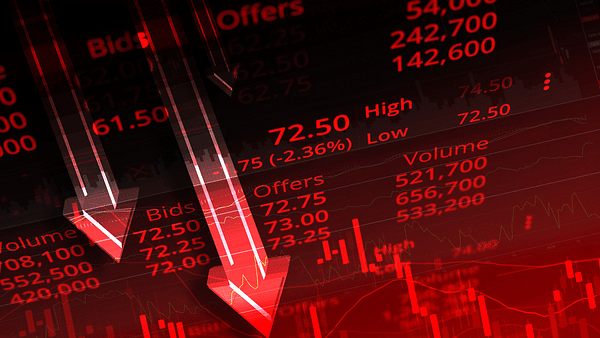 PayPal's payment processing platform was essential at the turn of the millennium when the world of internet payments was slowly emerging. Now that many merchants have their own payment processing software and smartphone providers have their own digital wallets, PayPal is starting to look like a weird useless company. Despite this, it continues to do quite well.
The company's founders included a young Elon Musk along with other associates. The company was sold to eBay 4 years after its founding, but in 2015 PayPal became independent and operates as a standalone company.
Day range
$62.43 - $64.06
52 week range
$58.95 - $103.03
In Q1, net revenue grew 9% year-over-year and earnings per share (EPS) grew a cool 61% thanks to various efficiency initiatives. Q2 isn't expected to be as great, with revenue only expected to grow 7%, but EPS is expected to grow 25%.
These efficiency gains are starting to make PayPal look like a truly valuable company and a strong performer. The company beat its own guidance by 1.5 percentage points in Q1 , so if current trends prevail, another move could be in order to boost earnings. With the stock trading at just 12 times future earnings it looks ridiculous at these prices.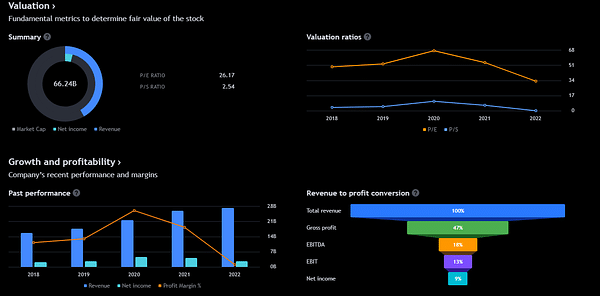 PayPal, unlike Amazon, is a profitable company. Net income is under 10% which is $2.42B. It makes most of its profits in the US (57%). The rest of the world makes about 35% and the UK less than 8%. The last 5 quarters in a row, with the small exception of when they had 0.1% less Revenue, they have always beaten estimates. Despite this, the stock is down and trading at $59.
Analysts are bullish on PayPal and estimate its price to rise 56% on average. The optimistic ones see PayPal's price up 170%!. Over the past 3 months, 29 analysts have agreed to buy and only 14 have agreed to hold the current position. 5 of them leaned towards a buy status.

PayPal is not without risks. CEO Dan Schulman is retiring at the end of the year and other than forming a committee and hiring a search firm, has offered little information on finding replacements. This doesn't pose a high potential risk to the stock price, but strong and stable management is always a good feature of a company I invest my money in.
Twilio's product line is dedicated to one task: communicating with customers. Whether through automated texts, programmable voice, or customized marketing campaigns, Twilio has several tools that make it easy to integrate these products into their clients' systems.
During the pandemic, communicating with customers became vital as many businesses lost face-to-face communication. Since then, demand for Twilio's products has plummeted , with first quarter sales up only 15% year-over-year, compared to growth of 60% or more in 2021.
Day range
$63.34 - $65.20
52 week range
$41.00 - $101.93
A major symptom of this slowdown is the retention of spending by existing customers. The net expansion rate, which measures how much a customer who stayed with Twilio spent this year compared to last year, was only 106%, meaning those customers spent only $106 this year for every $100 spent last year.
That's a significant slowdown compared to the 130% range the firm achieved during 2021.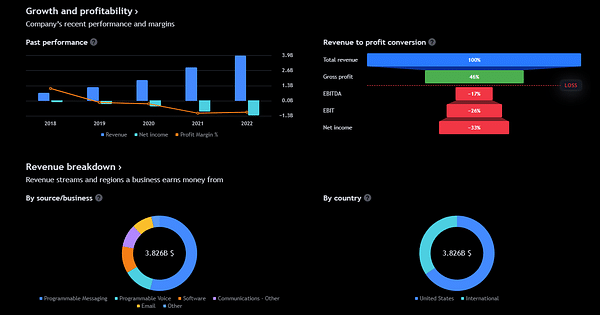 Twilio has significantly reduced its headcount as it went through two rounds of layoffs. These layoffs have helped boost Twilio's profitability, with the company reporting a non-GAAP (generally accepted accounting principles) net income of $104 million in the first quarter.
Additionally, Wall Street analysts expect Twilio to return to more reasonable growth levels in 2024, with average growth around 10%.


Both companies have a lot of work ahead of them to regain investor confidence. However, expectations for success are extremely low and the stock is priced accordingly. From the charts, it may look like investors have already moved away from these stocks, but remember that these tough times are usually the best time to buy.
This is not financial advice. I am providing publicly available data and sharing my opinions on how I would handle the situations myself. Investing is risky and everyone is responsible for their decisions.
Read the full article for
free

? Go ahead 👇
Do you have an account? Then
log in
. Or
create a new one
.