2 AI stocks that portfolio managers buy
It's not just in the stock markets that we've seen a recent AI euphoria. Everything to do with AI is flying up. Okay, that might be marginally understandable, but the whole market is flying up, as well as companies that, for example, are not yet using AI. It's like one big shopping spree and it's about not getting into an AI bubble. That would then be a really painful burst, but one that I think would be good for the markets. I mean, we've seen market declines in 2022, but there's no blood flowing anywhere yet, so to speak. But if we are now in this period, it is already clear beyond measure that AI will always be here with us and will determine the course of the world together with modern technology. I don't mean that technology will dominate us (like the domination of machines in the Matrix), but that also depends on how everyone takes it. Some may well consider that technology controls us in terms of our dependence on it. This applies to cell phones, appliances, and the various assistive systems that everyone uses in the modern world today. In the future, this 'addiction' will only increase. If we know this, we can prepare ourselves not only mentally but also financially.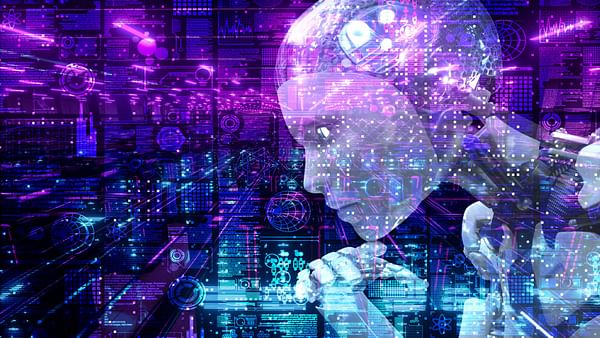 1. CrowdStrike Holdings ($CRWD

-1.7%

)
CrowdStrike is a cybersecurity company . Their main specialty is protecting against advanced threats and attacks, including cyber espionage.
CrowdStrike provides its customers with solutions based on artificial intelligence and big data analytics to help detect and eliminate threats in real time.
The value of AI applications generally increases with the amount of data they can process. Few cybersecurity providers can feed their AI models with the voluminous data that CrowdStrike has access to. Their platform analyzes trillions of signals every week.
Day range
$162.01 - $166.59
52 week range
$92.25 - $181.84
During its first fiscal quarter, which ended April 30, CrowdStrike reported revenue that grew 42% year-over-year to an annualized $2.77 billion. CrowdStrike slightly raised its revenue guidance for the full fiscal year 2024 from the range it provided in March. Management now expects total revenue to be between $3 billion and $3.0367 billion.
The midpoint of CrowdStrike's new revenue estimates for fiscal year 2024 represents a 35% year-over-year gain. That's less than investors are used to, but probably still fast enough to justify the stock's current sky-high valuation. The stock is trading at about 66 times.
CrowdStrike is also known for its"CrowdStrike Intelligence" concept, which is a team of experts that collects and analyzes information about cyber threats and actors around the world. This intelligence is then used to identify and prevent new threats and attacks.
Analysts clearly view this company very positively and many are buying it for their funds and portfolios. As a company that is making steady strides into profit, that's not bad.

The company also works with various organizations and businesses around the world, including government agencies, financial organizations, and companies of various sizes. Their goal is to provide highly effective and innovative cybersecurity solutions and help protect customers from the ever-evolving threats in the digital world.
UiPath is a leading robotic process automation (RPA) company. Their platform allows you to automate repetitive tasks and processes that normally require manual labor. RPA uses software robots to process tasks in a human-like manner, but with speed and accuracy that human operators can struggle to achieve.
UiPath offers tools and features that make it easy to automate a variety of processes, including data processing, extracting information from documents, interacting with third-party applications and systems, and more. Their platform is based on a drag-and-drop approach, meaning users can visually design and build automation processes without writing code.
Day range
$16.19 - $16.55
52 week range
$10.40 - $19.94
Demand for software services has remained strong even during a relatively weak period. UiPath posted a 122% increase in dollar value during its fiscal first quarter, which ended April 30 .
UiPath shares are trading at about 63 times management's expectations for adjusted earnings this year . That's a high multiple, but the company still has a pretty good chance to beat its valuation and deliver market gains from current levels. Between now and 2030, the RPA market is expected to grow 39.9% annually, according to Grand View Research. Adding some shares of this company to a diversified portfolio doesn't seem like a fatal mistake.
Even on this stock, analysts' outlooks are trending toward the possibility of growth. There's a slightly lower rate here, but it's still a good rein to other companies. This company is much more profitable compared to the previous one, but if the AI sector develops at the pace it is now, it won't be long before it joins the club of profitable ones.

UiPath has a large customer base worldwide and works with various industries and organizations including banking, healthcare, manufacturing, logistics and more. Their goal is to help organizations increase efficiency, reduce costs and improve the quality of their processes through automation.
UiPath is also active in education and certification, providing expert training and resources for users to become RPA certified and use their platform effectively.
This is not a financial advisory service. I am providing publicly available data and sharing my opinions on how I would handle situations myself. Investing is risky and everyone is responsible for their decisions.
Read the full article for
free

? Go ahead 👇
Do you have an account? Then
log in
. Or
create a new one
.