Apple and Microsoft may be part of a plan to boost Aurora
Aurora Innovation is an American technology company that deals with self-driving vehicles. The company is relatively young, but it has made a number of advances, made a few acquisitions, and definitely has potential for the future. However, the company is currently weighed down by problems that have pushed the stock down to the $2.4 per share mark. However, the company's CEO gave us his plan for how it will weather the current tough market and the next steps that will propel the company back to the top.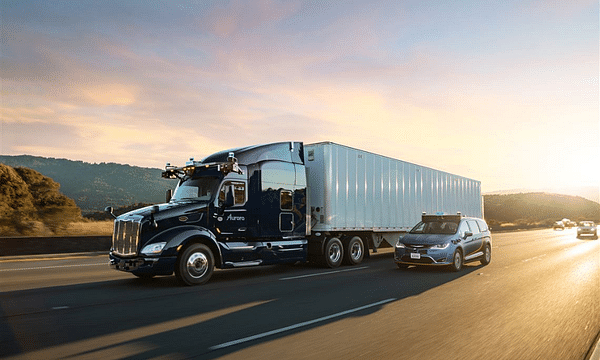 Aurora Driver and its self-driving system designed to operate multiple types of vehicles.
What is the company's business?
Aurora Innovation $AUR+3.4% is an American technology company focused on autonomous driving with offices in Pittsburgh, Pennsylvania and Mountain View, California. Aurora is known for developing Aurora Driver, a computer system that can be integrated into cars for autonomous driving.
Now you may be thinking - Why should I care about some young and unprofitable player in the autonomous driving field?
I would say that at the very least, this player is worthy of consideration as it has a track record of success and significant collaborations and acquisitions that prove it is not just some insignificant player. In the past, the company has partnered (and still does with some) with Amazon, Uber, FedEx, Toyota, Volvo Trucks, Paccar, Schneider, Werner and others.
Despite the fact that the company is currently unprofitable and hampered by the macroeconomic environment, the CEO is not idle and has formed a very interesting plan to weather the crisis and subsequent comeback.
As a little pearl, the report was supposed to be secret and non-public, but was accidentally sent to employees 😄 So we know the CEO's word for word.
Based on his resolution report, $AUR+3.4% shares rose as much as 27% at one point yesterday, but the stock eventually closed with a 15% gain.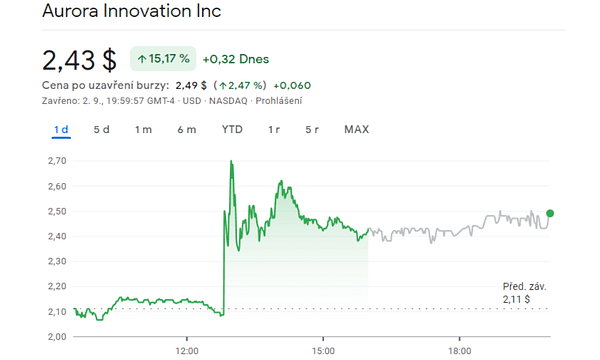 However, it should be noted that it is still losing 79% YTD.
Let's take a look at said plan 👇
Aurora has a "cash runway" that will allow it to continue operations until mid-2024, according to the Q2 shareholder letter and mentioned in the memorandum. However, Aurora is still a pre-revenue company. And the memorandum, written by co-founder and CEO Chris Urmson, acknowledged a twofold problem: a challenging financial market that makes it difficult to raise additional capital and the shifting timelines of its OEM partners, which is slowing revenue.
Chris Urmson, who co-founded Aurora after launching Google's self-driving car project, also outlined cost-cutting measures, including taking the company private, spinning off or selling assets and seeking a small capital raise. Urmson inadvertently sent it to employees and asked them not to open it, the document shows.
An Aurora representative confirmed the authenticity of the memo and said the company is considering ways to remain competitive in a challenging market.
"Given the current macroeconomic conditions, every company should go through the exercise of evaluating its options and long-term strategy," a company spokesman said in an email Friday. "We think thinking about such things is a positive sign and a sign of good governance."

"Despite our best efforts to help our OEM partners meet our original plan, their timelines have shifted," Urmson wrote.
Acquisition for cash?
Another strategic option Urmson suggested in the memo was to consider acquiring companies in the sector with cash of $150 million to $300 million and aggressively cutting costs to boost Aurora's balance sheet.
Urmson provided a breakdown of personnel actions to be considered, including a hiring freeze, layoffs, aggressive management of poor performance, and intensified reorganization of the company to avoid duplication. He also listed cash-saving measures such as eliminating the capital grant for himself, zeroing out corporate donations and ending lunch catering services.
Urmson wrote that while management is "reluctant to sell at this time," that could change with a competing offer from a compelling strategic buyer.
"Given our current stock price, we should be an attractive target for any entity looking to own the future of automated driving," Urmson wrote. "There are only a few potentially attractive landing spots: Apple, Microsoft or potentially Tier 1," referring to a large automotive parts supplier.
Why does he mention Apple and Microsoft?
Apple is moving forward with its autonomous driving technology and is targeting 2024 to produce a personal vehicle that could include its own breakthrough battery technology.
Microsoft, on the other hand, has invested in San Francisco-based self-driving car maker Cruise, which is valued at $30 billion.
We don't know any closer statements, and for now, no one knows how close the Apple or Microsoft collaboration/acquisition may be.
___________________________________________________________________________
Other possibilities mentioned by the director
Aurora has burned through about $230 million in cash as it developed autonomous driving systems and delayed its goal of having autonomous trucks on the road by a year (until 2024).
Aurora could also go private if it finds a partner to anchor a $1.5 billion funding round, Urmson wrote.
Aurora could potentially sell its lidar business for $500 billion to $1 billion, he said.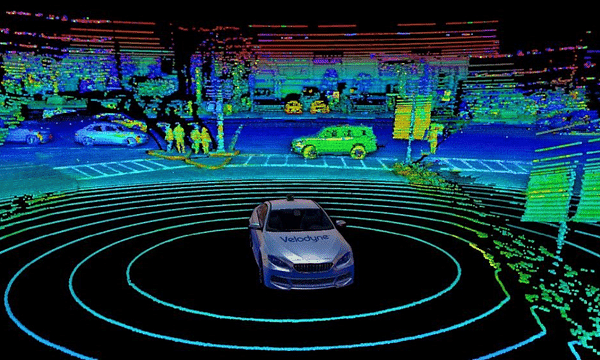 LIDAR is a method of remotely measuring distance by calculating the propagation time of a pulse of a laser beam reflected from a sensed object.
The company doesn't expect to be able to renegotiate its cloud computing contract in the near future, its biggest expense after personnel costs. The CEO said the company should consider an annual ''attrition rate'' of up to 10% that targets underperforming workers, which would mean cutting up to 150 jobs in 2022.
Among other options,Urmson cites the fact that he could give up his non-cash bonus and save $2.4 million to set the right tone, or the memo says Aurora could cut food service for employees and save $21 million. The startup also considered selling the building or its test track, as well as offering employees discounted stock in a move that would have raised $25 million.
Conclusion
Regarding the company, it doesn't make sense for me to dissect the numbers at the moment, as it is still not profitable. According to the figures, the current period should see the company survive financially as it has the funds to run until 2024. I take these steps as crucial for moving forward after 2024, which can get the company up and running again. For now, $AUR+3.4% stock is -79% YTD, but even so, I wouldn't rush to invest for now. However, this company is definitely worth a look and looks attractive based on technology and partnerships (unfortunately that's not all, numbers are needed too). The low price may tempt you, but it would be more of a speculative investment that relies on an acquisition from a giant or future balance sheet improvement.
Please note that this is not financial advice. Every investment must undergo a thorough analysis.
Read the full article for
free

? Go ahead 👇
Do you have an account? Then
log in
. Or
create a new one
.