The strong competitive advantage of this company can bring appreciation of up to 150%
Today, we're going to take a look at a company that may not be as well known, but has all the more potential for growth. Today's article will focus on CNX Resources Corp, a company that operates in what is being called the Saudi Arabia of natural gas. At the same time, the company is aggressively rewarding its shareholders and improving its numbers, which is essential at this point. Many experts cite potential in the 100-150% range, which is a really big room for growth.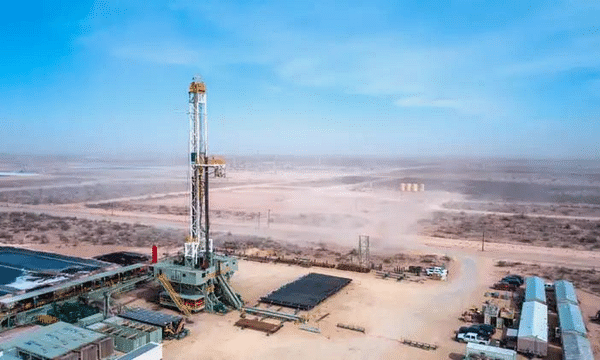 CNX Resources Corp $CNX-2.7%
What does the company do?
CNX Resources Corporation is a natural gas company with operations in the Appalachian Basin, primarily in the Marcellus Shale and Utica Shale in Pennsylvania, Ohio and West Virginia. It is also developing coalbed methane properties in Virginia along with a methane capture program
Marcellus and Utica are often referred to as the Saudi Arabia of natural gas. Two of the world's largest gas resources, the Marcellus and Utica shale, are located in the Appalachian Basin.
The most recent estimate (EIA) for the Marcellus shale resource is in the region of 450 tcfg (trillion cubic feet of gas). The Utica estimate is near 300 tcfg, bringing the total to 750 tcfg.
By comparison, the world's largest gas field is estimated at 1,236 tcfg, which is the South Pars field under Iran. The second largest field is the Urengoy field in Russia, which is estimated to contain 222 tcfg. If treated as one field, the Marcellus and Utica would rank second in the world according to official EIA estimates.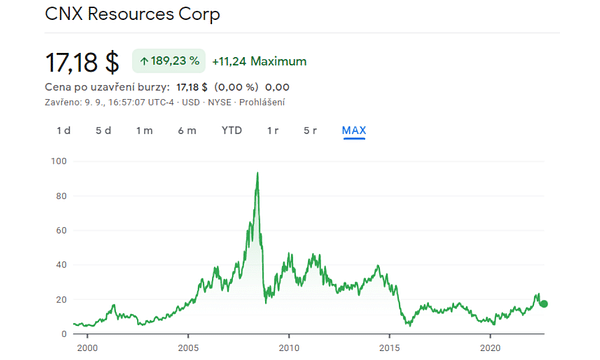 Besides the competitive advantage of operating in great areas for natural gas production 👇
Maximizing shareholder returns is the company's sole and currently primary focus. At the same time, the long-term view of managing such a world-class resource base opens the door to exceptional long-term value creation for $CNX

-2.7%

shareholders.
$CNX

-2.7%

is experiencing strong free cash flow growth. The company forecasts as much as 31% free cash flow growth annually through 2026.
This type of annual free cash flow growth, 31%, is typically associated with secular growth stocks in their early stages.
Fundamentals have seen a step change between October 2020 and today. For example, in October 2020, CNX forecast free cash flow per share of $2.50 for 2022 and $5 per share for 2026. The same forecasts are for $4 and $8 today. As for the projected growth rate of free cash flow per share, it has changed from 21% to 31% per year as of October 2020.
Balance Sheet
Since October 2020,$CNX-2.7% has reduced its share count by 16% while reducing its net debt by more than $300 million.
The company is on track to meet its goal and generate free cash flow of $1.6 billion in the three years through 2022. With free cash flow expected to reach $700 million in 2022 and a market capitalization of just over $3 billion, $CNX-2.7% could easily repurchase 22% of its outstanding shares using funds generated in 2022 alone.
Many investors may pause at the debt 👇
It may not be that big of a deal (for now) - the company's balance sheet appears relatively strong, which should continue to support its capital returns. $CNX-2.7% has balance sheet liquidity of $1.9 billion and looking at debt - it has no debt maturities until 2026.
Until then, the company will continue to get stronger and generate a lot of cash, which will be used currently for shareholder returns and only in the future will the focus be towards debt reduction.
It appears that analysts are bullish
Given that free cash flow should be around $4 per share in 2022 and up to $8 by 2026, a price target of $40 seems quite reasonable. This represents 135% upside potential.
Some analysts are even suggesting that a price of up to $80 per share will be in play if certain targets are hit, which would represent a potential for as much as 370%. But I'd prefer to keep my head down and lean towards the $40.
In closing, I am attaching a summary of the latest quarterly results 👇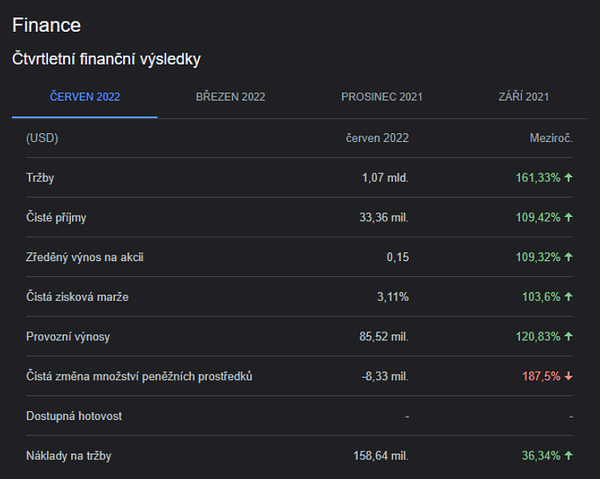 Conclusion
For my part, this is an interesting pick for a stock that operates in important and especially prolific areas for natural gas production, which is playing into the company's hands at the moment (energy crisis). The company operates a large asset base in the core of what many observers call the Saudi Arabia of natural gas. All evidence points to the Marcellus and Utica shales being the foundation of $CNX-2.7% stock value. Premium assets and an aggressive share buyback program should create incredible growth in net asset value per share, which many see as a giant upside potential from today's $17 per share. In addition, the recently improved industry conditions are likely to be a longer-term trend. As a result, the door is now open for an extraordinary free cash flow story and an exceptional opportunity for NAV growth. The risk-reward asymmetry is definitely a positive for CNX Resources, and the fact that the company has no maturing debt through 2026 plays into my hands.
How do you rate the company?
Do you think it will fulfill its growth potential?
Are you interested in picks like this for stocks with growth potential?
Please note that this is not financial advice. Every investment must undergo a thorough analysis.
Read the full article for
free

? Go ahead 👇
Do you have an account? Then
log in
. Or
create a new one
.