Don't invest, don't give a damn. Nothing will happen for 10 years now, discourages a well-known billionaire from…
There are periods of positivity in the market. Everyone is figuring out what grows more and what is the best choice for maximum profits. There are also periods of gloom and negativity. And then there's something in between. In Czech, I would call it "zero from zero is zero." Just times when nothing happens and the market just goes right. And that's exactly what we're in for, according to a well-known billionaire investor.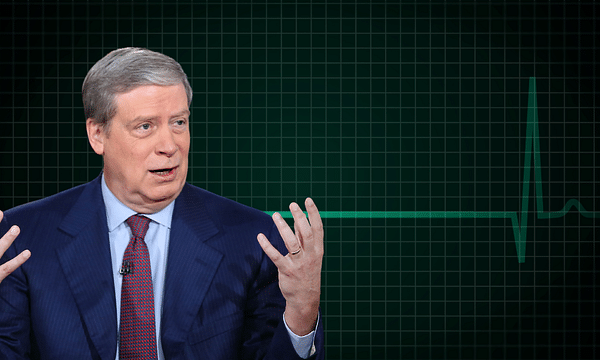 Billionaire investorStanley Druckenmiller sees the stock market outlook as bleak and says it is highly likely that the stock market will be flat for 10 years.
"In my view, there's a high probability that the market will be at best 10 years or so at zero, something like a 66 to 82 year period," Druckenmiller said in a discussion with Alex Karp, CEO of data company Palantir, according to a video uploaded Tuesday on YouTube. The video is quite interesting, by the way. Recommended.
https://www.youtube.com/watch?v=0sddHG0D0Y4
Mostly, though, the predictions are either up or down. What makes him think the market will go to the right?
The reasons he sees here in particular: globalization, which has led to high productivity and contributed to disinflation. Central banks, which since the global financial crisis in 2008 have adopted a generally easy monetary policy to support growth, but are now tightening their stance.
The Federal Reserve has made four interest rate hikes so far this year and is likely to raise them further to tame inflation. It looks like the next hike will be another 75 points.
Druckenmiller describes their behavior as on a seesaw. From extreme to extreme. First brutal money printing and then the brakes stepped on (in the form of extreme tightening).
A stagnant environment would be nothing new, but in principle nothing significantly positive either. But despite all this, Druckenmiller said a stagnant environment could be beneficial. He likens it to a situation in history that was quite similar to his prediction.
"The nice thing is that there were companies back then that did very, very well in this environment," Druckenmiller said, referring to the period of a stagnant stock market from 1966 to 1982. "That's when Apple Computer and Home Depot were founded."
It's a somewhat unusual prediction. We're used to the market rising over the long term, but nowhere is it written that there can't be a period that is completely "flat." And nowhere is it written that Druckenmiller can't be right and this period won't last 10 years. Even so, I don't find it significantly appropriate to rely on his references to the futility of investment. It's still really drastically more likely that the market will continue to grow over a 10 year horizon.
Also, nowhere is it written that even if the market stagnates, it won't be possible to make gains on individual sectors or stocks with proper analysis.
Who is Stanley Druckenmiller?
People's opinions are nice. But they must have a track record that can give weight to their opinion. Which Druckenmiller certainly has and delivers. He is an American investor and hedge fund manager. He is the former chairman and president of Duquesne Capital, which he founded in 1981. He closed the fund in August 2010. At the time of closing, Duquesne Capital had over $12 billion in assets.
But more importantly, he spent a significant portion of his career as the lead manager of the legendary George Soros' Quantum Fund. Like many names on Wall Street, he got a good ride out of 2008, in which he reportedly made $260 million.
https://www.youtube.com/watch?v=ELlmZ7WAMgU
If you enjoy my articles and posts, feel free to throw a follow. Thanks! 🔥
Disclaimer: This is in no way an investment recommendation. This is purely my summary and analysis based on data from the internet and a few other analyses. Investing in the financial markets is risky and everyone should invest based on their own decisions. I am just an amateur sharing my opinions.
Read the full article for
free

? Go ahead 👇
Do you have an account? Then
log in
. Or
create a new one
.