Indian tycoon becomes the second richest man on the planet and invests up to $2.5 billion in the company
Visionary and Amazon founder Jeff Bezos was recently replaced as the second richest man on the planet by Indian entrepreneur Gautam Adani, who overtook him by less than 20 million dollars after the shares of his company Adani Enterprises skyrocketed. Gautam Adani is a somewhat unfamiliar name to many of you, but he deserves respect for what he has built. By that we mean his conglomerate, which has grown by thousands of percent in just a few years. Today, we'll take a look at that conglomerate and introduce you to the industries where Adani currently sees potential for long-term growth.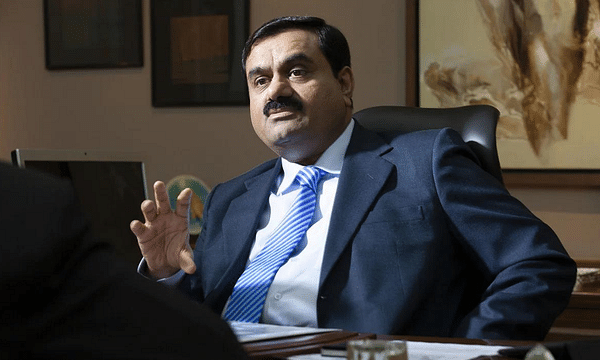 Gautam Adani
Sounds maybe too good to be true? In the case of the world's new number two in terms of the planet's richest men, Adani's story is not one of merely his conglomerate rocketing up the ranks and working its way to that position in a few years. In fact, it's a long and challenging story full of obstacles that has roots all the way back to 1988 when Adani founded his conglomerate. Which actually tells us that this long journey, above Bezos and below Elon Musk at the same time, took over 44 years. Becoming that successful and wealthy simply costs something, and in this case it's just another example of perseverance combined with hard work.
Over the past eight years, the first-generation entrepreneur from his home state of Gujarat has emerged from relative obscurity to eclipse Amazon's Jeff Bezos. No other Asian entrepreneur has ever risen so high. Adani is literally a man who has built something extreme out of nothing, plus he is beloved domestically and has often been described as a true minister of India as he has held talks with influential people on climate and economic change(including Boris Johnson).

Gautam Adani's rise to No. 2 in the global wealth rankings, generated primarily from stocks traded on the local market, deserves to be in the spotlight.
Adani Enterprises (Adani's conglomerate)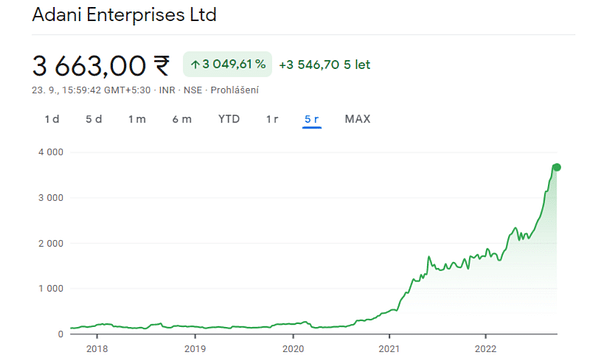 The conglomerate has gained over 60,000% since 1988, but the main growth has come in the last 2-5 years when the company has experienced meteoric growth.
Adani Group is an Indian multinational conglomerate based in Ahmedabad. It was founded by Gautam Adani in 1988 as a commodity trading company with Adani Enterprises as its flagship company.
The stock of companies in his Indian business empire - from ports to gas distribution and coal mining to renewable energy - has led to the conglomerate's recent fortunes.
What's more, Adani doesn't seem to be slacking off and intends to consolidate his position or even threaten Elon Musk himself (as the world's number one richest man).
Gautam Adani's firm has secured a $3.1 billion port project in eastern India.
Adani's group will build a port in the Indian state of West Bengal with a planned investment of more than $3 billion as his conglomerate continues to strengthen its control over the local infrastructure and logistics sectors.
In doing so, Adani will also create a myriad of jobs - more than 125,000 direct and indirect jobs, to be specific.
The latest win adds strength to India's largest private port operator, which already has a 30% share of the domestic market and secures global contracts.
Gautam Adani is also an experienced investor. Where is he finding opportunities now?
Clearly, the answer is not going to be - US equities. I have written a few times in the past about the Indian market and its potential, and it is generally predicted that India will be a second world power by 2050, which also opens the gates for investment.
Billionaire Gautam Adani has pumped as much as 200 billion rupees ($2.5 billion) into cement firm Cement Arm and has tapped his son to oversee the newly acquired business as the world's second-richest man seeks to bolster his infrastructure empire, which includes ports, utilities and power generation.
"What makes cement an exciting business is the scope for growth in India to exceed that of any other country beyond 2050," Adani said in a statement, adding that the diverse businesses provide "unparalleled relationships" for the cement industry.
Don't take this as a conflict of interest, Adani pushed his son to head the company, so it wasn't some gift to keep his son's company running. It is all about trusting that in his son's hands it will be well run.
Recent announcements also show that the tycoon is making cement units the growth engine of his empire and strengthening the logistics chain that includes seaports, airports, real estate and coal. Adani is rapidly diversifying beyond its traditional roots (fossil fuels) and branching out into data centres, digital services, telecoms and media.
Conclusion
I found this topic very interesting, as unseating the second man on the planet (Bezos) is no easy feat. What makes the whole story even better is that this is a man with roots in India, where the situation is not at all ideal for building such a large conglomerate almost from scratch. Above all, the whole thing reinforces my belief that India is moving forward and I'm really starting to like the idea that India will be one of the world's superpowers in the future. I don't have any investment in that territory yet, but I have some thoughts and ideas in my head, and the potential for growth in many sectors there is really huge.
What about you? Do you see potential in India for the future?
Can Adani dethrone Elon Musk himself in the future?
Please note that this is not a financial advisory. Every investment must undergo a thorough analysis.
Read the full article for
free

? Go ahead 👇
Do you have an account? Then
log in
. Or
create a new one
.