Russell 2000 - World ETF with 600% appreciation since 2008
Everyone knows about ETFs on global indices like $SPY+0.2% or $QQ+0.4%. But there are plenty of others, and often more interesting ones. In recent years, the well-known $ARKK-0.3%, with Cathie Wood at the helm, has opened the gates to other ETFs. If you are one of those who are more adventurous in investing and something like an ETF seems too conservative for you, trust that this index is for you.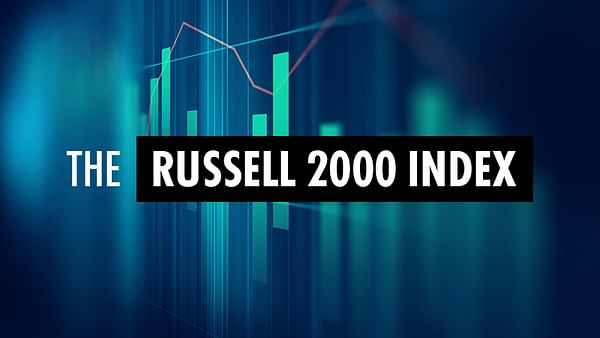 What is the Russell 2000 Index?
TheRussell 2000 Index, sometimes referred to as the "Russell 2K," is the most widely used index of small-cap stocks - stocks with relatively small market capitalizations.
There are no hard and fast rules as to when a stock is small. The key point is that there is a broad market index known as the Russell 3000.
Itis divided into two smaller ones: the Russell 1000, which represents the 1,000 largest companies, and the Russell 2000, which makes up the remaining two-thirds.
The largest company in the Russell 2000 index has a market value of about $10 billion. The smaller ones have market capitalizations in the $200 million range.
Day range
$184.45 - $186.61
52 week range
$162.50 - $201.99
This is now the fifth month the index has been in a sideways trend between values of (approximately) $164 and $200. It is currently near the lower end of that range and is holding there. It is down 27% from its peak reached at the end of 2021.
Compared to the $SPY+0.2% index, we can tell at a glance that it is moving more. The $SPY+0.2% is now trading around 4100 points, which is 14% below the peak. This is due to the fact that there are more small market cap companies in the $IWM-0.8% index that the index is targeting. These stocks move more and this results in larger swings in the value of the entire ETF.
How does it work?
The Russell 2000 was launched in 1984 by the Frank Russell Company. As with other indexes, the Russell 2000 index is weighted by market capitalization.
To be selected for inclusion in the index, companies must first be listed in the Russell 3000 Index .
The FTSE Russell then selects the 2,000 smallest companies and removes billion-dollar corporations like Apple, Microsoft and Tesla, which are considered the core of the economy.
As of January 2022, the average market capitalization of the Russell 2000 is $3.1 billion.
It is completely reconstituted each year to ensure that larger stocks do not distort the actual performance of small-cap stocks. Adding IPOs quarterly also helps ensure that the index remains "small."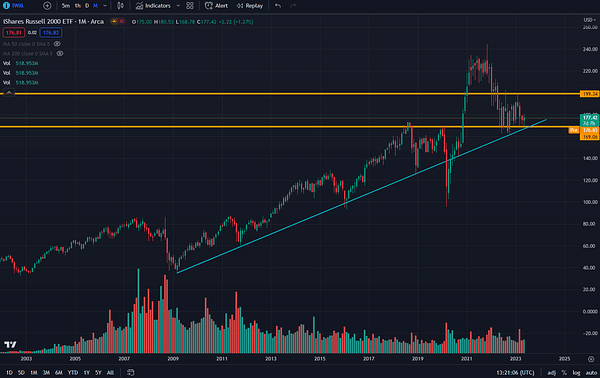 What does it contain?
The Healthcare sector had the largest allocation in the index as of December 31, 2021, at 17.5%. Finance, industrials, consumer staples and technology round out the top five sectors.
FTSE Russell further divides the Russell 2000 into smaller indices that can help investors track the performance of specific segments. Some of these smaller indices include the Russell 2000 Value, Russell 2000 Growth, Russell 2000 Dynamic and Russell 2000 Defensive, among others.
So what separates the Russell 2000 from the rest of the market?
Greater volatility and smaller stocks: stocks in the Russell 2000 are smaller than stocks in "major" indexes like the S&P 500. Many are newer growth companies that tend to be more volatile than their larger counterparts.
Higher Growth Potential: While they tend to be more volatile, smaller-cap stocks tend to have much higher growth potential than larger companies. Example: for example, Apple $AAPL+0.2% is now so big that it won't just double its market capitalization or price overnight. It has other advantages like stability, but the returns won't be as high as on smaller stocks that have a market cap of "only" $1 billion. This is beautifully evident in Palantir $PLTR-1.2% stock as of late today. It has risen over 50% in the last 3 weeks while Apple has "only" risen 4%.
So while their price swings tend to be more dramatic, small-cap stocks tend to outperform large-caps over the long term.
Diversification: because it focuses on smaller companies, the Russell 2000 is more diversified than other popular indexes. The $SPY+0.2% index contains 500 companies which is a quarter of what the Russell does. It is less demanding and does not depend as much on the performance of just a few large companies.
How to invest in it?
You don't have to own all 2,000 stocks listed in the Russell 2000 Index to stay invested in the index. You can gain exposure to the Russell 2000 through exchange-traded funds (ETFs) and mutual funds that try to replicate the index's performance.
These funds typically carry lower fees, so their long-term performance can be virtually identical to what the index offers.
Common ETFs that provide Russell 2000 exposure include the Vanguard Russell 2000 ETF($VTWO-0.8% ), the BlackRock iShares Russell 2000 ETF ($IWM-0.8% ) and the ProShares UltraPro Russell2000($URTY-2.3% ).
On my watchlist, $IWM-0.8% has had its place of honor for a long time, and along with the major indexes, I do my analysis on it first before diving into the smaller companies contained within it. It serves great as an overall view of the markets. It can give you a good overview of market sentiment in particular areas or give you more ideas for investments and trades.
Does anyone own the Russell 2000 index or is this the first time you've heard about it?
This is not financial advice. I am providing publicly available data and sharing my views on how I would handle situations myself. Investing is risky and everyone is responsible for their decisions.