2 stocks that you buy for under $2, but are worth at least 10x more
Cheap shares are those that are traded on the market at a lower price than their actual value. This may be due to various factors such as negative sentiment towards the sector, short-term problems in the company or general unpopularity of the stock. These factors can lead to a share price falling below its intrinsic value, creating an opportunity for investors who can identify its potential and invest in it early.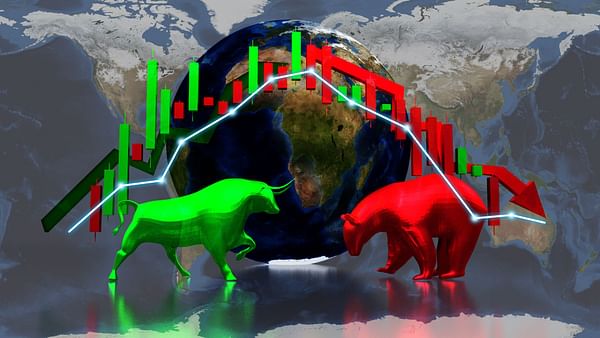 Stocks with potential have the prospect of improving their financial performance, expanding their business or achieving a competitive advantage in the marketplace. For example, these companies may have innovative new products, a strong management team or expansion plans that could deliver growth and profitability in the future. Investors who identify such companies have the opportunity to take advantage of their potential and earn attractive returns from them.
The combination of low-cost stocks with growth potential can present an attractive investment opportunity. Investors who are willing to conduct careful research and analysis may find stocks that are undervalued compared to their true potential. By doing so, they can achieve significant appreciation in their investment portfolio.
1. SmileDirectClub ($SDC

+10.7%

)
SmileDirectClub is a company focused on providing orthodontic care and treatment aimed at straightening teeth. Their main product is clear plastic aligners, known as aligners, which help to correct the position of teeth and achieve a straight smile.
SmileDirectClub has become popular through social media ads, influencer campaigns, and other traditional marketing strategies.
52 week range
$0.32 - $1.09
The company was founded in 2014 in Nashville, Tennessee, and has since become one of the leading providers of teledentistry. SmileDirectClub uses innovative technology and digital imaging systems that allow patients to get their treatment plan and aligners directly and conveniently online, without the need to visit an orthodontist.
Unfortunately, smiles haven't appeared on investors' faces since their IPO in 2019. At one point, $SDC+10.7% stock traded as high as $21.10. This month, the company's stock hit record lows of $0.400.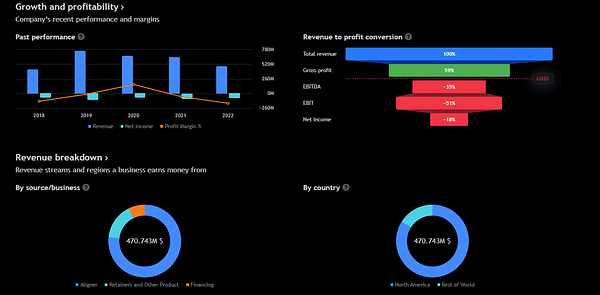 The company is still losing money now, but everyone knows that dentists are getting paid sometimes ungodly amounts of money for their services, and that could help this company turn a profit. The latest results missed estimates in earnings per share, but sales managed to beat by 11.6%.
2. New Gold Inc. ($NGD

-2.5%

)
New Gold Inc. is a Canadian mining company that specializes in the exploration, mining and processing of gold. The company was founded in 1980 and is headquartered in Toronto, Ontario. The company operates several mining projects in the United States and Canada.
52 week range
$0.73 - $1.48
New Gold is focused on sustainable gold mining and adhering to the highest standards of environmental and social responsibility. The company also emphasizes working with local communities and creating long-term benefits for the regions in which it operates its projects.
This company has 3 mines in their portfolio that are key to their business:
New Afton Mine: located in British Columbia, Canada. New Afton is an underground mine with extensive gold and copper reserves. It also produces silver and is known for its long-term operations and for always having something new to offer.
Rainy River Mine: Located in Ontario, Canada. Rainy River is an open pit mine with great future potential in expandability. Gold and silver are mined here.
Blackwater Project: Located in British Columbia, Canada. Blackwater is a large project in the early stages of development that has the potential to become one of the largest gold mines in Canada.
The last quarter was a very good one for this Canadian company. They beat analysts' estimates by 80% in terms of earnings per share ($0.03 versus $0.017 expected).
The company didn't hold back on the earnings front either. It earned $201M for the most recent quarter, up more than 5% and nearly $10M more than initial expectations. Currently, the company is in a small loss position, but over time, it could recover from this and has a chance to turn a profit once the new mines open.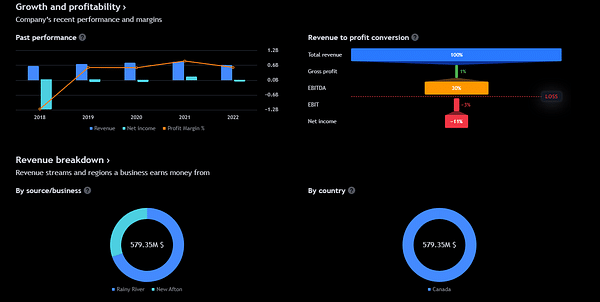 The value and performance of New Gold Inc. shares can vary depending on various factors such as gold prices, production results, mining costs and the general state of the precious metals market. Before making any investment, it is important to conduct a thorough analysis and assessment of the risks associated with investing in the Company's shares.
This is not financial advice. I am providing publicly available data and sharing my views on how I would handle the situation myself. Investing is risky and everyone is responsible for their decisions.