The Israeli growth stock that investors are now buying
We all talk and flirt with the US market most of the time here. Yes, it is the largest market in the world, the country with the largest number of large and wealthy multinationals. It is certainly not wrong to predominantly focus on this market as well, but sometimes it would be nice to take a break from the American Dream for a while and look at other countries and different markets. For example, a beginner might not believe that one can even buy Chinese stocks on the American stock market. And yes, you really can. You can also find many other gems on the NYSE that, despite also being listed on the American market, actually originate or are based in another country or even a very distant part of the world. We'll look at one such example today.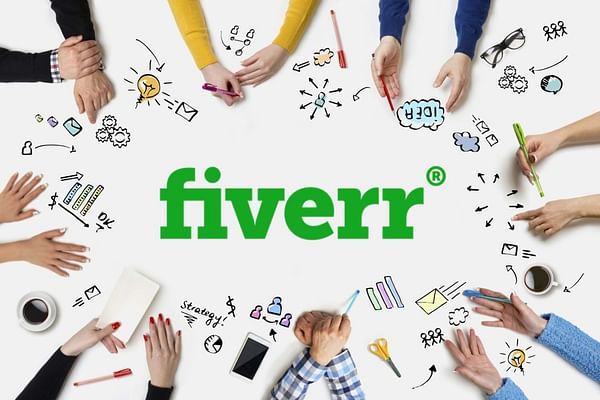 is an online platform for freelancers that connects the supply of services with the demand for them. Founded in 2010, it is one of the largest online marketplaces for digital services. Fiverr allows people to offer their skills and services in various fields such as writing, design, programming, marketing, music and many more.
On Fiverr, freelancers can create profiles to showcase their skills, experience and portfolio. Clients can then browse through listings and hire freelancers based on their ratings and reviews from previous clients.
Day range
$23.98 - $24.48
52 week range
$23.61 - $47.66
Fiverr is known for its unique pricing structure, where most services start at $5 (hence the name Fiverr). However, many freelancers offer extended and specialized services at higher prices. Payment for services is usually processed through Fiverr, and freelancers receive payment once the job is completed and approved by the customer.
Fiverr also provides tools and features for communication between freelancers and customers, such as messages, discussions, and the ability to attach files. This enables efficient collaboration on projects and ensures transparency and security for both parties.
Fiverr has gained a lot of popularity due to its global reach and the diverse range of services it offers. It is a popular place for entrepreneurs, small businesses, and individuals looking for professional help on various projects.
Fiverr completed its IPO (Initial Public Offering) on June 13, 2019. During the IPO, Fiverr offered 5,263,158 shares to the public at a price of $21 per share. In this way, it raised approximately $111 million. The shares were listed on the NASDAQ exchange under the symbol "FVRR". Fiverr's IPO was considered a success and brought the platform funds for further development and expansion.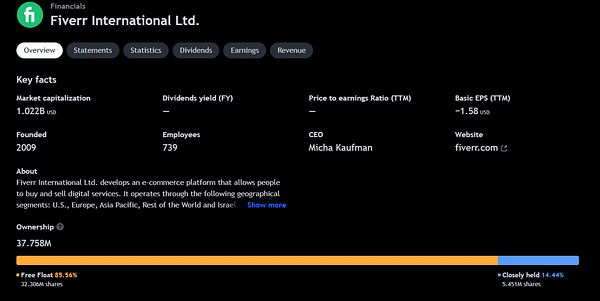 The stock peaked right at the beginning of 2021 at a price of around $340 per share. From that point on, when the market was in a covid bubble, the stock rode down like a roller coaster. In 800 days, it has written down over 90% of its value. At the moment, it's still higher than it was at its initial public offering in 2019, but that doesn't seem very comforting looking at the chart.
For those who bought at TOP prices in 2021 and 22, the road back to the top is a long one indeed. The stock would have to appreciate 1100% from today's levels ($27). Year-to-date through May, the company has booked a decent profit - about 75% share price growth. The company has fueled that growth with results that have almost always beaten analysts' estimates so far. But at a price of $47.5, the stock stalled, formed a double top, and quickly slid back down to where it started the year.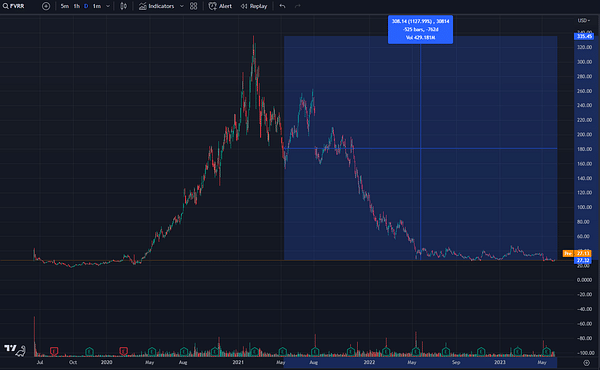 But in May, the company's stock plunged another 27% in three days. What happened?
Fiverr released its earnings for the first quarter of 2023, showing that growth has slowed even more as the pandemic fades. Revenue increased just 1.5% year-over-year to $88 million, a far cry from the 27% year-over-year jump seen in Q1 2022.
The good news is that operating and net losses both narrowed significantly, though Fiverr had yet to turn a profit on either metric. On another positive note, free cash flow continued to grow, increasing 93.2% year-over-year from $6.8 million to $13.2 million.
Active customers grew just 0.3% year-over-year to 4.3 million, in contrast to 11% year-over-year growth a year ago. Spending per buyer increased just 4% year-over-year to $262, a drastic slowdown from the 17% year-over-year growth recorded in the same period last year.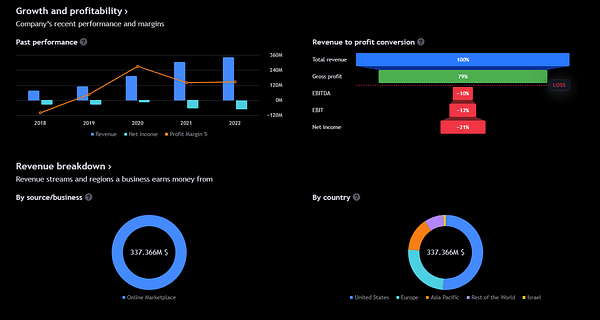 Fiverr revised its full-year 2023 revenue estimates upward to 5% to 8% year-over-year growth. The company also believes that freelancing continues to move into the digital world as the majority is still done offline, giving it a long-term edge as it maintains its position as the No. 1 freelancing brand.
Fiverr estimates that it has a total addressable market of $247 billion in the US alone , and that market could be even larger if the company expands its services to overseas markets.
With the advent of AI, however, investors need to carefully examine its impact on Fiverr's business and growth as some freelance positions become obsolete. Fiverr, along with other independent platforms, may struggle to attract customers with the same ease they witnessed during the pandemic, and its overall market it is targeting may shrink as more jobs are replaced by AI.