US stocks weaken sharply on Tuesday as investors fear higher interest rates

US stocks fell sharply. Concerns persist in the market about the negative impact of high interest rates.
The Dow index, which includes shares of thirty leading US companies, lost 1.14% to end trading at 33,618.88 points. The broader S&P 500 index fell 1.47% to 4 273.53 points and the Nasdaq Composite index, which includes many companies in the high-tech sector, fell 1.57% to 13 063.61 points. The VIX volatility index rose by 12,07 % to 18,94 points and the yield on 10-year US government bonds rose by around one basis point to 4,555 %. Oil prices rose by less than a percent, while gold and silver gave up around a percent and bitcoin wrote off about half a percent to $26,150.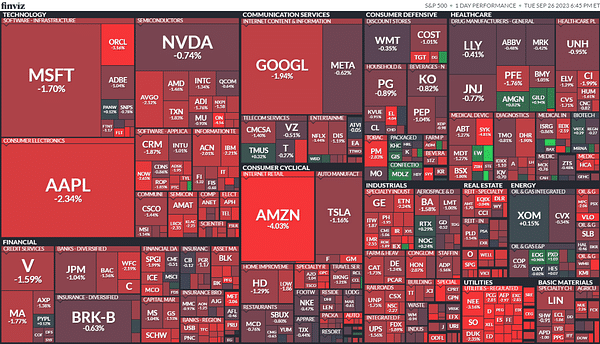 The U.S. Federal Reserve last week left its benchmark interest rate unchanged at a range of 5.25-5.50%, as expected. However, it hinted that it intends to keep rates high for longer and that it could raise them further. Yields on 10-year US government bonds have climbed to 16-year highs in the wake of the Fed's statement.
Shares of online retailer Amazon (-4.03%) weakened significantly. Investors reacted to the news that the US Federal Trade Commission (FTC) filed an antitrust lawsuit against the company. The FTC alleges that the firm is abusing its dominant market position to its own advantage and forcing consumers to pay higher prices for goods. As part of the lawsuit, the Commission asked the court to consider whether it should force Amazon to sell some of its business to stop the negative impact on consumers.
In the foreign exchange market, the US dollar climbed to a new ten-month high against a basket of currencies. It was supported by high US bond yields. The euro was losing around 0.2% against the dollar at around 22.00 CET to USD 1.0570. The dollar index, which measures the value of the dollar against a basket of six major world currencies, gained around 0.2% to 106.2 points.