Chciałbym podzielić się tutaj zdjęciem z terminala Bloomberg, które może zainteresować wszystkich inwestorów $ENPH+1.3%.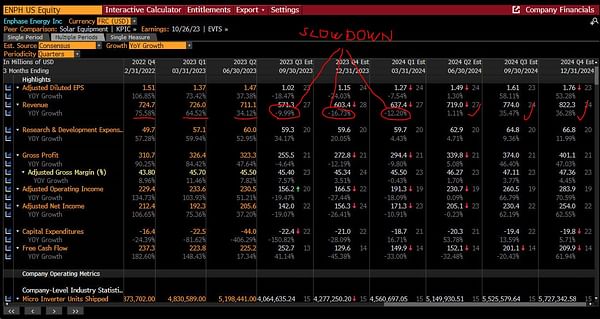 Prawdopodobnie zobaczymy znaczne spowolnienie wzrostu przychodów, jak wielu z nas się spodziewa, ale powinno to wrócić do normy... Pytanie brzmi, jak długo potrwa ten bolesny okres.
Chociaż cena 100 USD może już wydawać się bardzo dobrą transakcją, może być okazja do zakupu jeszcze taniej... Wiemy, jak to jest złapać spadający nóż. Trudno jest cokolwiek wyczuć w czasie, więc osobiście prawdopodobnie zdecyduję się na stopniowe DCA.