US GDP grew at an annual rate of 4.9% in the third quarter, better than expected.
The U.S. economy notched a remarkable achievement in the third quarter this year, with growth exceeding the expectations of many economists and analysts. Gross domestic product (GDP), a measure of all goods and services produced in the U.S., grew faster than many had expected. This development appears to be the result of strong consumer behavior, although the economy still faces higher interest rates, inflationary pressures, and other challenges.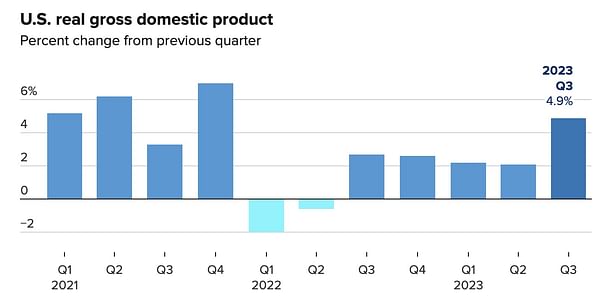 According to a Commerce Department report released Thursday, GDP grew at a seasonally adjusted annualized rate of 4.9% in the third quarter. The figure is a significant improvement from the second quarter, when growth was 2.1%. Economists' expectations were slightly beaten, as a Dow Jones survey pointed to an expected GDP growth of 4.7%.
The strong growth was mainly helped by consumer spending, inventories, exports, residential investment and government spending. Jeffrey Roach, chief economist at LPL Financial, commented on the phenomenon, "The real question is whether this trend can continue in the coming quarters, and we think not."
While the report could give the Federal Reserve some impetus to keep policy tight, traders still priced in no chance of an interest rate hike at next week's central bank meeting, according to CME Group data. Futures prices pointed to only a 27% chance of a hike at the December meeting following the GDP release.
Matthew Ryan, head of market strategy at Ebury, points out, "The bottom line for the Federal Reserve is that there is no recession in sight and policymakers can be content knowing they can hold interest rates higher for longer without triggering a collapse of the U.S. economy."
Despite the positive developments, however, there are concerns about the future. Increased gas prices and geopolitical tensions could pose challenges to economic growth in the coming months. Overall, the U.S. economy showed strength in the third quarter, but many expect growth to slow in the coming periods.
This week, despite good results from large companies, we saw the markets decline due to significant divestments. $^GSPC+0.4% $^NDX-0.2% $^DJI+1.5%
How about you investor friends, what are you slowly looking forward to next week? 😊