3 picks for oil and gas companies with nearly 6% dividend yield
When picking dividend stocks, oil and gas companies have become very popular lately. Given this year's oil and gas problems, it's clear that demand for these commodities will still be strong. As a result, many energy companies are enjoying good earnings, which are reflected in their dividends. Let's take a look at 3 oil and gas companies that have a nearly 6% average dividend yield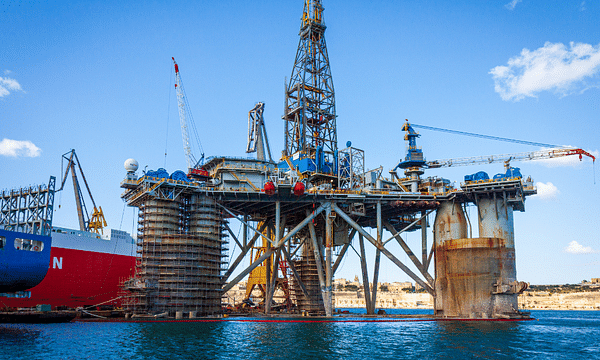 Baker Hughes Company provides a portfolio of technology and services to the energy and industrial value chain worldwide. It operates in four segments: (OFS), Oilfield Equipment (OFE), Turbomachinery & Process Solutions (TPS), and Digital Solutions (DS).
OFS: exploration, drilling, wireline, evaluation, completion, production and intervention services; and drilling and completion fluids, wireline services, well completion tools and systems, well intervention tools and services, pressure pumping systems
Oilfield Equipment (OFE): subsea and surface wellheads, pressure management and production systems and services, flexible piping systems for offshore and onshore applications, and well life cycle solutions, including well intervention and decommissioning solutions
Turbomachinery & Process Solutions (TPS): equipment and related services for mechanical drives, compression and power generation in the oil and gas industry. The product portfolio includes drives, compressors and turnkey solutions, pumps, valves and small-scale compressed natural gas and liquefied natural gas solutions
Digital Solutions (DS): sensor-based process measurement, machine health and condition monitoring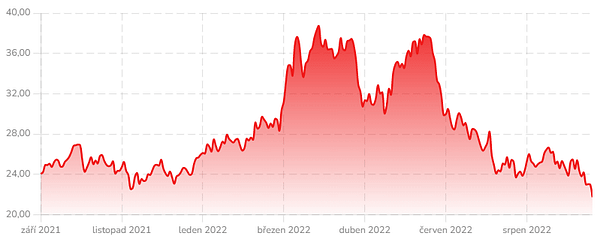 The company's stock is currently trading at $21.73, giving it a dividend yield of more than 3%. For the year, the share price is down nearly 13%. The forward PE ratio comes out to 15.7. The company was only profitable in 2018 and 2019, but it was only founded in 2016, which is something to keep in mind.
Reasons to be interested in Baker Hughes? First, commodity prices remain high, and the company is benefiting from that. Second, improved performance among competitors. Baker Hughes previously lagged competitors like Schlumber and Haliburton.
Devon Energy focuses on onshore U.S. assets and is a leading exploration and production company. Earlier this month, the company took a big step in expanding its natural gas portfolio when it entered into an agreement with Delfin Midstream. The agreement, a liquefied natural gas (LNG) export partnership, has the potential to produce a total of 2 million tonnes of LNG per year. This should translate into a solid increase in Devon Energy's free cash flow, which may eventually be returned to shareholders in the form of dividends.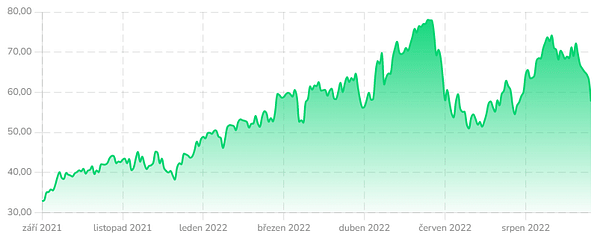 DVN shares are now trading at $57.69, representing a nearly 65% one-year increase. The forward PE ratio is set at 6. The company boasts a solid dividend yield of more than 8%.
At the end of the second quarter, the company's net debt to EBITDA ratio was 0.4, indicating that the company has taken a conservative approach to debt, which puts it on a secure financial footing. In addition, the company's 2022 free cash flow forecast of $6.5 billion suggests that the company has room to further strengthen its balance sheet through debt reduction.
Kinder Morgan, Inc. operates as an energy infrastructure company in North America. The company operates in four segments: Natural Gas Pipelines, Products Pipelines, Terminals, and CO2.
Natural Gas Pipelines: owns and operates interstate and intrastate natural gas pipelines and underground natural gas storage facilities, natural gas gathering systems, and natural gas processing and treating facilities
Products Pipelines: owns and operates refined petroleum product pipelines and crude oil and condensate pipelines and related product terminals and crude oil pipeline blending facilities
Terminals: liquids and bulk terminals that store and process a variety of commodities, including gasoline, diesel, chemicals, ethanol, metals and petroleum coke; and owns tank farms
CO2: produces, transports and sells CO2 to extract and produce oil from mature oil fields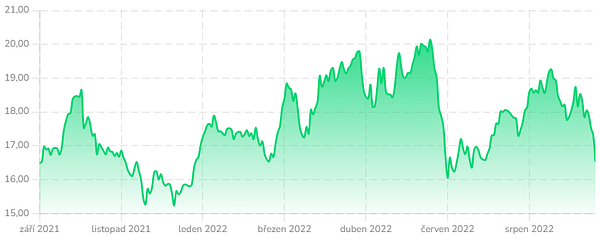 KMI stock last closed at $16.53, down 2.65% from a year ago. The forward PE ratio stands at 14. The current share price gives the company a 6.72% dividend yield.
Just a few years ago, the growth prospects for Kinder Morgan, the pipeline and infrastructure giant, looked dim. Capital expenditures were at a decade low as investors questioned the long-term viability of natural gas infrastructure in a world where energy sources are increasingly renewable.
But the situation is vastly different in 2022. Global upheaval in the energy industry makes natural gas reliability more important than ever for energy-dependent countries in Europe and Asia. The United States is an exporter of oil and natural gas. Although domestic growth prospects remain limited, opportunities exist for the U.S. to increase natural gas production, cool and condense gas to a liquid, and then deliver it to customers around the world.
Do you have any of these companies in your portfolio? Do you use energy stocks to build a dividend portfolio? 🤔
Disclaimer: This is not an investment recommendation.
Read the full article for
free

? Go ahead 👇
Do you have an account? Then
log in
. Or
create a new one
.