The next few decades will see an epic stock market collapse, says Finnish economics professor
The next few decades will see an epic stock market collapse, argues Finnish economics professor Klaus Grosby. What leads him to this belief?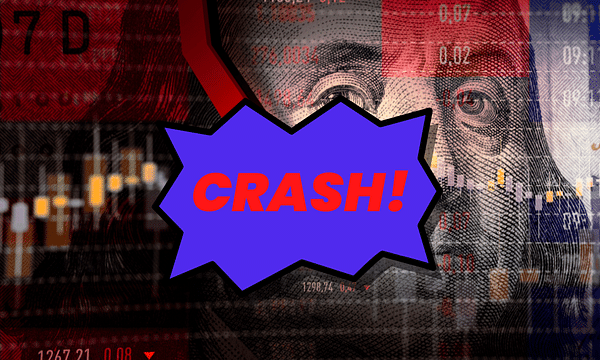 Klaus Grosby is a Finnish professor of economics and researcher at Vaasa University. He is particularly interested in macroeconomic issues and has a broad knowledge of financial markets and economic policy. He has numerous publications in prestigious academic journals and is a frequent guest at international conferences and debates.
Grosby warns of a possible massive collapse of the US stock market in the coming decades. This research, which was conducted at Finland's Vaasa University, refers to recent warnings from Wall Street legends that speak of an epic collapse and reboot.
Grosby's study , "Financial Market Armageddon: Will the U.S. Stock Market Collapse Eventually?" focused on major events that have affected financial markets in recent years, including the 2008 financial crisis, the COVID-19 pandemic, and the Russia-Ukraine conflict. These events have had a "dramatic" impact on the global economy, disrupting supply chains and creating high inflation.
The economist warns that central bankers may find themselves in a situation in the future where they have to choose between easing debt or fighting high prices, which could lead to a serious recession and a stock market collapse.
Grosby's study also reviewed past research that focused on stock market crashes to determine whether the U.S. market is headed for another disaster. In particular, he referred to a 2001 study that concluded that the rise of U.S. stocks was unsustainable and leading to an "apocalyptic collapse."
Grosby applied the same model to data from the S&P 500 index and concluded that the US stock market could face collapse by 2050. These results confirm an earlier study that showed the U.S. stock market is headed for a collapse in 2052.
Grosby tinkered with the same model using stock market data from the S&P 500 index over the past twenty years to explain the dot-com crash, the 2008 crisis, and the pandemic-induced recession in 2020, which led to a sharp decline in the stock market. He also recalibrated the model because other analyses suggest that it might overestimate the time it takes for the stock market to crash. This could be due to the central bank's "extreme monetary policy" in previous years, which Grosby speculates could have precipitated the onset of the financial crisis. He likened the coming crash to the events of 1987 and 1929.
"The stock market crashes of October 1987 and October 1929, which have been examined in the current research as robustness checks, could serve as clues to how such a crash might unfold: In both events, market participants experienced extreme reductions in market capitalizations in a very short time," Grosby warned.
His findings echo the warnings of prominent Wall Street commentators who say a stock market disaster is on the horizon. Legendary investor Jeremy Grantham recently warned investors of a crash that could wipe 50% off the S&P 50 index - Legendary investor Jeremy Grantham says he expects the S&P 500 to fall 50% in 2023 in a worst-case scenario | Bulios
Former Bridgewater CEO Ray Dalio has repeatedly warned that the financial markets are headed for a new world order - and after the Fed's latest rate hike, interest rates this high could easily trigger a severe recession and a 20% drop in stocks.
Please note that this is not financial advice.
Read the full article for
free

? Go ahead 👇
Do you have an account? Then
log in
. Or
create a new one
.