ChargePoint analysis: what needs to happen to turn this horror movie into a fairy tale with up to 300% growth potential?
Speculative stocks or a brilliant long term play in the EV sector? A losing market leader can mean something different to everyone.
A basic overview
ChargePoint Holdings is a company that specializes in manufacturing and operating charging stations for electric vehicles. It is headquarteredin Campbell, California. The company has offices around the world and offers comprehensive electric vehicle charging solutions.
ChargePoint Holdings was founded in 2007 under the name Coulomb Technologies and has since become one of the largest providers of EV charging stations in the world. In 2013, the company changed its name to ChargePoint and began focusing on expanding its operations globally. In 2019, the company announced plans to go public, which took place in 2021. As part of this IPO, the company raised more than $480 million.
As I've written before - ChargePoint Holdings specializes in manufacturing and operating charging stations for electric vehicles. It offers a wide range of products and services, including charging stations for homes, businesses and public spaces. The company also offers EV charging management, billing and fleet management software. The company currently operates more than 115,000 charging stations worldwide and has more than 4,000 customers , including large companies such as Microsoft, Google and PepsiCo.
One of the biggest risks associated with ChargePoint Holdings is competition. There are many other companies that also focus on manufacturing and operating EV charging stations, including big players such as BP, Shell and Volkswagen. If these competitors offered better products or services than ChargePoint, they could gain more market share and reduce the company's revenue.
The development of the EV and charging station market is highly dependent on policy decisions and regulations. If governments were to reduce their subsidies or change EV regulations, this could have a negative impact on the charging station market and thus on ChargePoint.
https://www.youtube.com/watch?v=yT87Eh6qDi8
Another risk is economic instability. If there is an economic recession, customers could reduce their investment in EVs and charging stations, which could lead to a reduction in the company's revenues.
But there's one big BUT - the company's financial health.
ChargePoint Holdings $CHPT also just released its Q4 results.
Although ChargePoint is projected to record nearly 98% revenue growth for FY23(at least that's the consensus outlook), its adjusted gross margin is expected to be around 19%. ChargePoint recently announced a partnership with Stem, a company known for its AI-driven energy solutions. The partnership will therefore allow ChargePoint to leverage Stem's battery storage system to reduce the operating costs of its EV charging infrastructure. It is therefore intended to accelerate the adoption rate of ChargePoint's platform solutions and support its growth.
However, investors need to note that the US government's federal funding requirements could face structural challenges from July 2024. Accordingly, the cost of US-made charger components must be at least 55% or the project will not be eligible for federal funding. Thus, while US government support should help accelerate the goal of building 500,000 charging stations by 2030, it could also lead to increased costs.
Analysts point out that the Inflation Reduction Act, or IRA, could lead to higher costs for consumers. As the Biden administration focuses on shifting manufacturing capacity for its EV supply chain, it appears that the cost of charging infrastructure could double because of the IRA.
Investors need to carefully assess when the swing to nice profitability for ChargePoint will occur. An unintended cost increase that delays its rollout could slow its profitability ramp-up and prolong the pain for investors, despite aggressive revenue growth projections.
Regardless, ChargePoint's secular growth drivers in the U.S. and Europe remain strong. U.S. EV volumes are expected to grow-electric vehicle sales are expected to rise to 1.8 million from 770,000 units in 2022.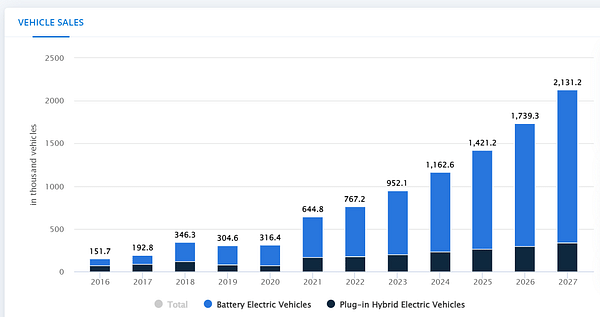 The energy crisis in Europe has provided the impetus for the region to accelerate its clean energy ambitions. So the environment is constructive for ChargePoint. Despite this, Wall Street estimates suggest that ChargePoint's near 100% growth in FY23 is unlikely to be repeated in FY24. Even so, they are very positive for some reason. Personally, though, I've been waiting until the company demonstrates that it can be profitable.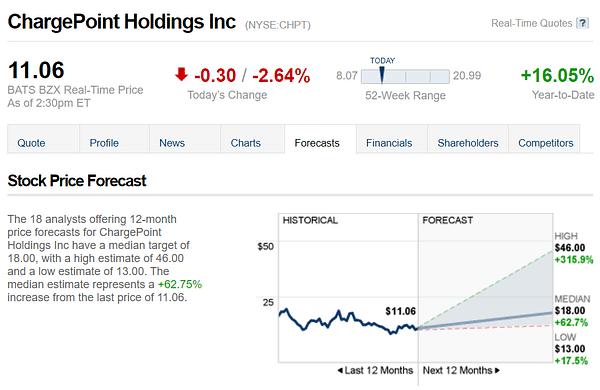 Also, ChargePoint is projected to achieve 57% revenue growth and an adjusted operating margin of -32%. Analysts and investors are also likely watching management's comments and outlook on gross margin. Any hint of weakness will likely cause CHPT to be brought to its knees as it is maddeningly shorted. Generally the whole stock is rather speculative and most investors don't view it as anything long term.
Disclaimer: This is in no way an investment recommendation. This is purely my summary and analysis based on data from the internet and other sources. Investing in the financial markets is risky and everyone should invest based on their own decisions. I am just an amateur sharing my opinions.
Read the full article for
free

? Go ahead 👇
Do you have an account? Then
log in
. Or
create a new one
.