My take on Canon. Would I include it in my portfolio?
Who doesn't know Canon and its products? It is a world-renowned manufacturer of cameras, camcorders and printers. But is this company also interesting for investors?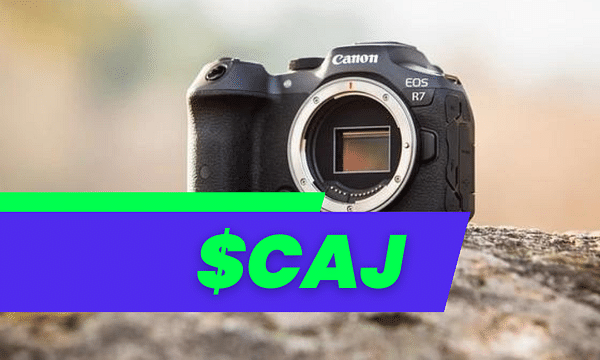 Basic information about the company
Canon was founded on August 10, 1937 under the name Precision Optical Instruments Laboratory as a joint venture between three Japanese companies - Goro Yoshida, Saburo Uchida and Takeshi Mitarai. In 1947, the company changed its name to Canon Camera Co., Inc. and began to focus on manufacturing its own cameras.
Canon is a well-known Japanese electronics manufacturer that specializes in the production of cameras, camcorders, printers, scanners, and other imaging-related products.
In addition to its core products, Canon is also involved in other areas such as medical technology, industrial technology, optical equipment and others.
Where does it operate?
Canon operates worldwide and has an extensive global presence. It has a total of 338 offices in 220 countries and regions, and also has an extensive network of dealers and distribution channels worldwide.
Within each country and region, the largest markets for Canon are Japan, USA, Germany, China and France. However, the company has a strong presence in many other countries and regions and is looking to increase its market share in emerging economies, particularly in Asia and Latin America.
What about competitive advantages?
Canon has several competitive advantages that help it maintain its market position and compete with other electronics and imaging technology manufacturers. Some of these advantages are:
Canon is known for its high quality products, both in cameras and camcorders as well as printers and other products. The company aims to produce products with the highest quality and reliability.
Canon is a strong brand with a high level of brand awareness and brand loyalty. This enables it to maintain its market position and compete with other manufacturers.
Canon has a strong global presence and is one of the largest camera and camcorder manufacturers in the world. With its global network of dealers and distribution channels, the company can reach customers around the world efficiently and effectively.
Canon has a strong market position in cameras and camcorders and is one of the largest players in the global market. For example, in 2020, according to IDC data, Canon became the second largest digital camera manufacturer in the world with a 19.4% market share.
In printers and multifunction devices for home and office use, Canon is one of the leading manufacturers. According to IDC, Canon was the second largest printer manufacturer in the world in 2020 with a market share of 17.8%.
Overall, Canon has a strong market position in many of the areas in which it operates and is one of the world's leading manufacturers of imaging-related products.
A look at the numbers 👇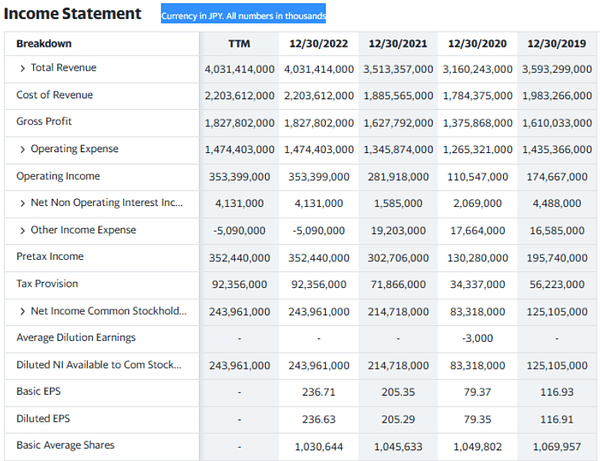 I won't break down individual sales and net profits here at this time, as it is a relative fluctuation over the last few years, with sales declining at an average of 3% per year for over 5 years, while net profits have been declining at an average of such 2.5% per year over the same period. The reason for these results has been the pandemic, but also increasing competition in recent years and poor adaptation to these conditions.
Is the company trying to do anything about it?
Yes, there have been a number of cuts in recent years where the company has cut R&D costs by 200mil in 2022 alone. USD 200 MILLION.
Further, Canon is trying to reverse the downward trend by strengthening its financial structure, making acquisitions and restructuring, and looking for new areas of growth.
It has also made acquisitions and restructuring in areas such as network camera, industrial printer and medical imaging system.
It has introduced new printing products and services to meet the company's needs.
Long-term debt
Long-term debt has been declining at a fairly decent rate, for example, it was still at US$3.3bn in 2017 and has fallen to less than US$1.3bn by 2022.
Assets
We have seen a slight downward trend here for the last couple of years, with assets currently at some US$38.9bn, but at the same time assets far exceed liabilities, so the decline in this area is not terrible.
Cash flow
CF has grown from $3.057bn to just over $4bn since 2017, with an average annual growth rate of 8.12% in recent years.
Dividend
The dividend has been paid since 1988 and is currently at 4.20%.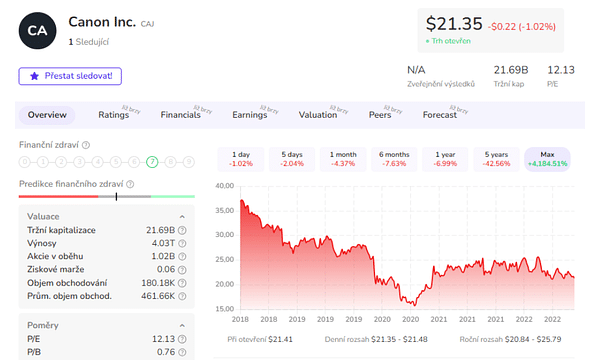 Ratios such as P/E, P/S and P/B are appealing on the surface, even compared to competitors, but I see a problem with the high PEG, which may indicate overvaluation, but also poor prospects. Moving on to returns and margins, we immediately realise that it doesn't look good at all, a result of the troubles of the last few years and the mismanagement of the company, despite efforts to reduce costs.
What are the plans for the future - What to expect?
Launch at least 32 new RF lenses by 2026, including telephoto, macro and zoom lenses.
Launch new models of full-frame mirrorless EOS R cameras that will have enhanced features such as 8K video, dual card slots and image stabilization.
Introduce Kokomo's new communication technology that combines immersive 3D VR experiences with video calling to give people a new way to connect, meet and explore new places.
Introduce the new ProStream 3000 series, the next generation of their fast, continuous printing presses with high quality and productivity.
But there's one more catch.
Canon is on NYSE and domestic TYO at the moment, and as of the end of March they are (voluntarily) leaving the NYSE saying that it has served its purpose and at this point they don't believe the NYSE can move them any further.
Therefore, from April, it will only be possible to invest in Canon shares through TYO = Tokyo Stock Exchange.
If anyone is interested in how to invest through TYO, here are the options I have tracked down:
Open a trading account with an Indian broker (e.g. Axis Securities, HDFC Securities, ICICI Direct etc.) who have a partnership with a foreign broker.
Open a trading account directly with a foreign broker (e.g. TD Ameritrade, Charles Schwab International Account, Interactive Brokers, etc.).
Through an ETF, but this will not be focused on that company only.
Conclusion
I don't like the company at all at this point - As I wrote, I see an exclamation point in the high PEG and in the low returns (ROA 4.8%, ROE, 7.9% and ROI 7.7%). Another thing I don't like is that the gross margin is at 45% while the net margin is at some 8%, which in my opinion indicates inefficiency in the company and trouble adjusting costs + it may also have high non-operating costs (taxes, payroll, interest).
Please note that this is not financial advice. Every investment must go through a thorough analysis.