Analysts say big tech companies are finished, old school is coming
We all remember 2021 and the huge growth of the big tech companies. But according to analysts, we're going to take a break from these big growths for a while. The big tech stocks will be replaced by something else.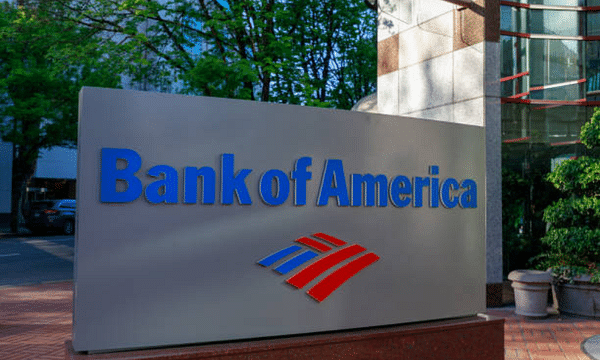 2021 was the year of technology companies. Pretty much any tech company you bought, you got a nice growth spurt. But analysts say there could be a new order, and technology companies could replace traditional value stocks at the top. Why is that? Let's take a look.
Year 2021
To get a good understanding of why this might be the case, we need to break down two very different situations. For the first situation, I have chosen the year 2021. This year undoubtedly belonged to technology companies. You could say that in this year you could buy any technology company and it still grew. Investors didn't even mind that some technology companies didn't generate any money.
Why was that? Quite simply, the environment in the economy was conducive to this. Interest rates were around zero, so companies could borrow money for virtually free. Another thing was that the pandemic brought a large wave of young investors into the capital markets. These people didn't care so much about the health and finances of the company. Rather, they chose companies based on their vision. In short, the more like Tony Stark a company was, the more lucrative the investment.
Of course, technology companies wanted to turn their plans and visions into reality, which is relatively easier in an environment where they can borrow money for practically free. So, simply put, companies had access to cheap money, and were able to reinforce investors' faith in themselves, thereby raising additional capital from the stock market.
Year 2022
This year has put a line through companies' budgets. As we all know, it all started with the war in Ukraine, followed by high inflation, and to make matters worse, the Fed added high interest rates to try to tame inflation.
So we have the complete opposite of the 2021 scenario. Given that technology companies are dependent on development and innovation, this is not an ideal environment for them. This innovation and research costs companies a lot of money, which they have to find somewhere. They therefore have two options. Either they can raise this money by selling their shares or they can simply borrow the money.
This is where the major stumbling block comes in. Technology companies are mostly dependent on their investments, which they mostly pay for with debt. The moment interest rates start to rise rapidly, the cost of servicing this debt will become rapidly more expensive for technology companies. This leads to a slowdown in the growth of technology stocks. The other thing here is investor confidence, where these companies are losing that confidence in these difficult times. The worst off are the technology stocks, which are not generating any money. Here that confidence is being lost quite quickly. This is mainly because these companies only have limited capital to work with, and any increase in costs can be a problem for these companies.
So what are we likely to see?
According to analysts at Bank of America, we could be looking at a change in sector leadership in this bear market, as has happened in the past when sectors that led the previous bull market switched in a bear market.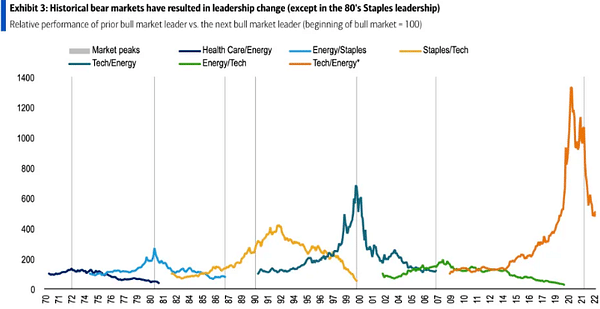 Indeed, as we can see in the chart, there have been several times in the past when after a bear market, the following bull market was led by a different sector. This is confirmed by Savita Subramanian, head of US equity and quantitative strategy at BofA.
Bear markets have historically led to a change in leadership, suggesting that old economy sectors are likely winners this cycle.
BofA analysts say old economy stocks will again lead the way. Technology stocks have simply run out of fuel and are now doing much worse.
The rally in technology stocks at the start of the year can only be considered a temporary bear market rally, according to analysts. Stocks reacted this way to the slivers of hope the Fed gave investors. But now many people no longer believe that anything other than interest rate hikes could happen this year.
That old-economy stocks could take the lead was already hinted at by the markets in 2022, when last year the Dow Jones Industrial Average crushed the tech-heavy Nasdaq Composite, for example, falling less than 10% in 2022, while the latter index erased more than one-third of its value.
Dividend stocks have been the best performers in tough times. That's why we've launched a new service called Bulios Dividends. So if you want a portfolio that will hold you up in these tough times, and generate a decent passive income as well, feel free to click here
WARNING: I am not a financial advisor, and this material does not serve as a financial or investment recommendation. The content of this material is purely informational.
Read the full article for
free

? Go ahead 👇
Do you have an account? Then
log in
. Or
create a new one
.