The best-performing stock in the SAP 500 over the past 20 years? This is a name you would never have thought of!
Did you ever think it would have been cool to invest in Microsoft 20 years ago? It would have been great, of course, but there are companies that would have been even better. And the best of them would probably never have occurred to you.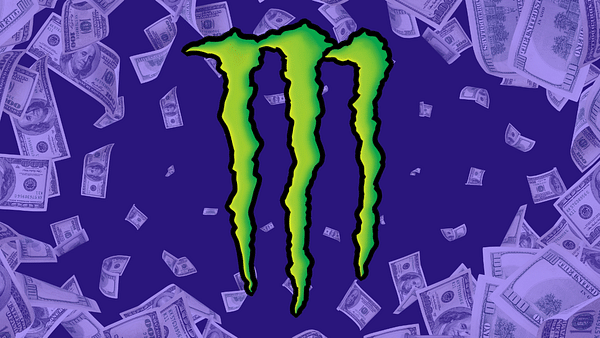 If you ask people which stock in the S&P 500 has been the best performer over the last 20 years, the answers are likely to be very techy. Apple? Amazon? Maybe Microsoft or Google? Well, none of them. Not even Tesla. It's not even a tech company at all. It's someone else entirely. A name you know but probably wouldn't have thought of! Monster Beverage Corporation $MNST, maker of some of the most popular energy drinks in the United States, whose stock price has risen more than 100,000 percent in the last twenty years .
The Corona, California-based company entered the still nascent energy drink market in 2002 and quickly established itself. In 2012, the former natural juice and soda maker changed its name from Hansen Natural to Monster Beverage after energy drinks became its largest source of revenue. Monster is now one of the biggest players in the more than $60 billion energy drink market, trailing only Austrian energy drink pioneer Red Bull in global sales.
https://www.youtube.com/watch?v=xUXBd7ra-oA
As the chart below shows, Monster's bet on energy drinks has paid off handsomely, at least for its long-term shareholders. Over the past 20 years, the company's share price has risen 111,929 percent, so the 20-year gains of Apple and Amazon pale in comparison. In 2020, Monster reported profits of $1.4 billion on sales of $4.6 billion, compared with just $3 million on sales of $80 million in 2001.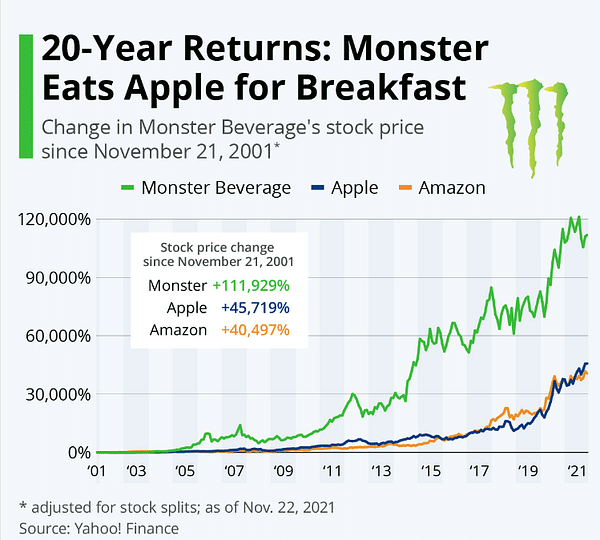 Monster, which counts Coca-Cola among its major shareholders, is reportedly in talks with another beverage maker, Constellation Brands, about a possible merger. Constellation, which owns and sells a diverse portfolio of alcoholic beverage brands, is the largest importer of beer in the United States and is best known for its popular Mexican beers Corona and Modelo. News of the negotiations between the two companies came as a surprise to most shareholders, as the strategic benefits of combining an energy drink manufacturer and an alcoholic beverage specialist are not immediately clear.
The company's shares now
Hitting it earlier would have been great, but we're not going to change that now. So where does it stand currently? Simple - the valuation is astronomical, but the numbers are decent too. The company's sales outside the US and Canada are soaring.
Sales outside the US and Canada were just $977 million in 2018, or 25.7% of total sales, but climbed to $1,687 million in 3Q22, or 35.2% of total sales.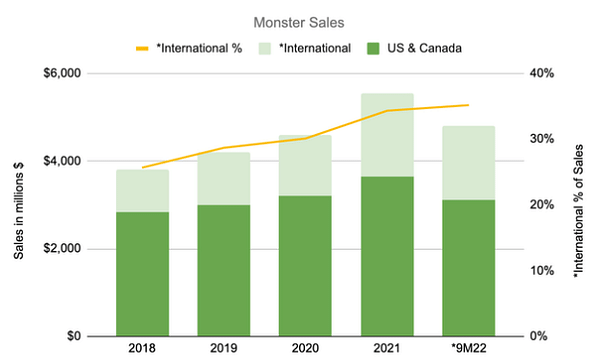 Above, we see that international and total dollar sales are up nicely from 2018. Outside of the US, there is still huge room for growth. Energy drink sales for $KO were 40% in the US and 60% internationally back in 2015 when it entered into the deal with Monster. In a 2017 video interview, company co-CEO Rodney Sacks said the U.S. only accounts for about 1/3 of the global energy drink market in terms of volume and sales.
Probably the most undervalued and perfectly priced stock currently. But it has shown in the past that you don't have to be Tesla to make huge valuations - and in this case - outperform everyone.
Disclaimer: This is in no way an investment recommendation. This is purely my summary and analysis based on data from the internet and other sources. Investing in the financial markets is risky and everyone should invest based on their own decisions. I am just an amateur sharing my opinions.
Read the full article for
free

? Go ahead 👇
Do you have an account? Then
log in
. Or
create a new one
.