Want to ride the growth of penny stocks? These ETFs are one way to limit your risk.
Penny stocks or cheap stocks with small market capitalization have been traded on stock exchanges since time immemorial.
They played an important role in the movie The Wolf of Wall Street, where Leonardo DiCaprio made a huge amount of money with their help. At that time, they were traded on so-called pink sheets where all the details of a given transaction were recorded.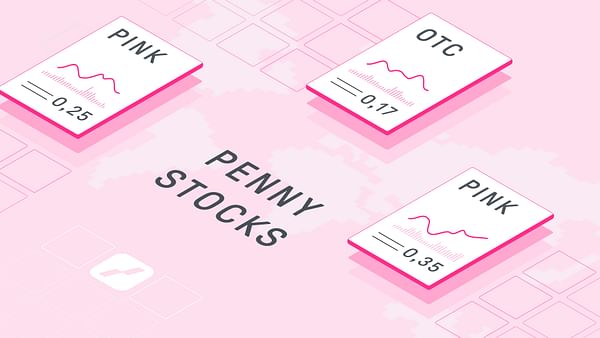 Nowadays they are little mentioned and hidden behind the giants that everyone knows in the market. Despite this, they still offer the greatest potential for appreciation given their often negligible price. It's simple - if these stocks are worth a few cents, any movement is in the hundreds of percents and that will move the stock by maybe just half a dollar. If you want to discover penny stocks, the easiest way is clearly a diversified ETF.
1. iShares Micro-Cap ETF ($IWC

+0.0%

)
IWC invests in some of the smallest companies in the United States. It tracks the performance of the Russell Microcap Index and includes nearly 1,800 companies. It is one of the largest penny stock ETFs and has over $1 billion invested. It has done well since its inception, especially during the pandemic when its price rose more than 200%.
This fund is great because of its diversification. It has spread its funds across many sectors, with almost half of it focused on healthcare, financial services and industrials. The healthcare sector is often a favorite among penny stock investors, and nearly a quarter of IWC is invested in it.
The price of this ETF is now at $105.
Day range
$110.72 - $111.30
52 week range
$98.62 - $127.32
2. The First Trust Dow Jones Select MicroCap Index Fund ($FDM

-0.8%

)
The First Trust Dow Jones Select MicroCap invests in small market cap companies listed on the NYSE, NYSEAMEX and NASDAQ. The Fund seeks to track the performance of the Dow Jones Select Index . $FDM-0.8% uses a screening process to determine which stocks to invest in. This process is based on market capitalization, trading volume and several financial data sets.
The fund contains over 200 titles divided into a wide range of sectors. However, nearly two-thirds of the fund focuses on financial services, industrials and consumer discretionary. Its total assets of $170 million are fairly evenly spread among all its holders.
Day range
$56.58 - $57.21
52 week range
$49.38 - $61.54
3. Advisorshares Dorsey Wright Micro-cap ETF ($DWMC

+0.1%

)
DWMC is an actively managed ETF that invests in micro-cap companies with market capitalizations of less than $1 billion. Unlike many ETFs that track the performance of a specific index, DWMC is managed by an experienced portfolio manager who uses a strategy known as relative strength investing to make stock buying and selling decisions.
The fund invests only in stocks that meet certain criteria, which are mostly related to technical data analysis. The analysis does not include any fundamental data on companies. It has over 150 titles spread across four major sectors, including technology, health care, industrials and consumer cycle.
It has performed well since its inception in 2018: The current yield is 60% and the price per unit is just over $30.
Day range
$32.35 - $32.35
52 week range
$28.07 - $34.85
Warning.
This is not financial advice. I'm providing publicly available data and sharing my opinions on how I would handle the situation myself. Investing is risky and everyone is responsible for their decisions.