US bonds can rewrite history. This has not happened in the market in 250 years

Ten-year US government bonds may see their third consecutive annual price decline this year. As strategists at Bank of America point out, this is something that has never happened in the roughly 250-year history of the United States. Bunds fell 3.9% in 2021, are down roughly 17% in 2022, and have written down less than a percent so far this year.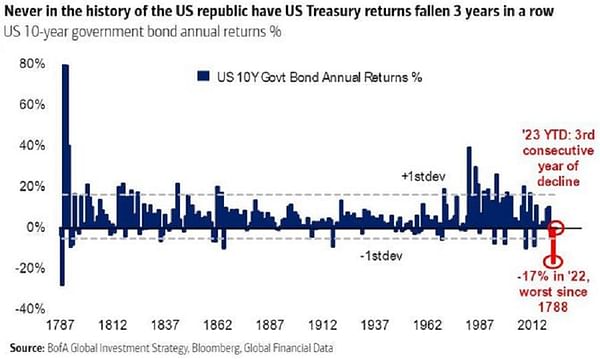 U.S. bond prices have fallen significantly due to rising interest rates. However, strategist Michael Hartnett points out that even for US equities, the current decade has not been downright bombastic compared to the previous decade. While the indices are rising, the expansion is being driven by a relatively small group of mainly technology titles. "The reality is that global equity growth, in terms of its breadth, is the most buoyant almost since the beginning of the millennium," says Hartnett.
Even with uncertainty over the sustainability of current levels of the major U.S. stock indexes and the prospect of an early end to the Fed's interest rate hike cycle, however, bonds are not dragging. According to recent weekly data from Bank of America, $10.3 billion flowed into US equities, while only $1.7 billion flowed into bonds.