US stock indices fell slightly on Tuesday, the dollar did not do well either.

Stocks in the United States weakened. Investors steered away from riskier investments ahead of the U.S. central bank's monetary policy decision. Large technology companies sensitive to interest rates, such as Amazon and NVIDIA, lost significantly.
The Dow fell 0.31% to 34 517.73 points, the broader S&P 500 index weakened 0.22% to 4 443.95 points and the Nasdaq Composite technology market index fell 0.23% to 13 678.19 points. The VIX volatility index rose 0.79% to 14.11 points and the yield on the 10-year US government bond rose four and a half basis points to 4.365%. Oil prices closed the day in the green, while gold and silver posted marginal losses. Bitcoin firmed by around one per cent to USD 27,080.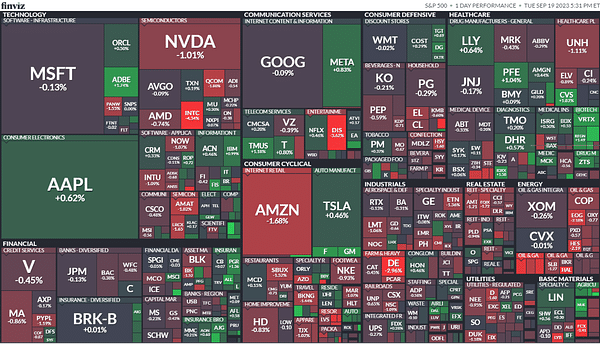 Traders were adjusting positions ahead of Wednesday's Fed announcement, which, in addition to the interest rate decision, is also expected to release its estimate of economic indicators, which will provide a glimpse of the next possible developments in interest rates, inflation and economic growth. Markets are now pricing in the Fed leaving its key interest rate at its current level on Wednesday. The odds of no change in interest rates in November have then risen to 70.9%. But analysts say there is also a growing risk that rates will remain higher for longer.
Shares of Maplebear (+12.33%), the parent company of food delivery app Instacart, experienced strong growth. The company's shares have started trading on the stock market and have gained more than 40% at the start of the first trading day.
The biggest losers were in the consumer staples and technology sectors. Shares of media firm Walt Disney (-3.62%) weakened in response to news that it will double its investment in its theme parks over the next ten years. Shares of automakers General Motors (+1.86%) and Ford Motor (+1.78%) strengthened. The UAW plans to announce more strikes at the automakers on Friday if there is no progress in negotiations with the automakers, Reuters reported.
The U.S. dollar weakened against a basket of six leading global currencies. Traders are awaiting the results of the monetary policy committee meetings of several central banks this week. In addition to the Fed, the central banks of Britain and Japan will also decide monetary policy.
The dollar index, which tracks the dollar's performance against a basket of six leading world currencies, fell 0.1% to 105.13 points. The euro weakened 0.1% against the dollar to $1.0684. The dollar rose 0.2% against the yen to JPY 147.84. The euro strengthened 0.1% against the yen to JPY 157.9.

Tuesday's highlights in US markets
Elon Musk may be planning to charge all users for access to social network X, formerly known as Twitter. He says it's the only way to get rid of bots and fake accounts. The X owner said this in an interview with Israeli Prime Minister Benjamin Netanyahu, according to the BBC. But it's unclear whether this was just a side note from the billionaire or a signal that such a plan is indeed in the works.
U.S. media company Walt Disney (-3.62% on Tuesday) will nearly double its investment in its theme parks to about $60 billion over the next decade. The parks business has become a reliable growth driver for the company and has helped mitigate losses at its streaming service Disney+, which is expected to be profitable next year.
U.S. retailer Amazon (-1.68% on Tuesday) has developed a new version of its checkout-free shopping technology for clothing stores. It wants to expand its shopping system beyond convenience and grocery stores, Bloomberg reported.
U.S. internet company Google (Alphabet -0.12% Tuesday) expanded the features of its artificial intelligence model Bard. It made the announcement on its blog on Tuesday. For example, Bard will verify its answers after the fact or analyze user files and documents. Google is trying to mitigate the lead of OpenAI's popular ChatGPT tool, which is backed by Microsoft.
Global debt surged to a record $307 trillion in the second quarter, despite interest rate hikes that are curbing interest in credit. Developed countries such as the United States and Japan were the main contributors to the rise. According to Reuters, this is according to a new study by the Institute for International Finance (IIF). In the first half of the year, the debt increased by ten trillion dollars, and is higher by up to 100 trillion dollars in ten years.
The Organisation for Economic Co-operation and Development (OECD) has upgraded its outlook for global economic growth this year, expecting gross domestic product to rise by three per cent. In its previous forecast, which is from June, the OECD estimated growth at 2.7 per cent. But the OECD has downgraded the outlook for next year.
US construction starts fell 11.3% month-on-month in August to an annualized pace of 1.283 million units (estimate: 1.44 million, July: +2% to 1.447 million, revised from 1.452 million).
US building permits rose 6.9% to an annualized pace of 1.543 million units in August, according to preliminary data (July: +0.1% to 1.443 million units).