Does it make sense to invest in Occidental Petroleum? Maybe so, these 5 reasons may prompt Buffett to buy the entire…
Occidental Petroleum $OXY+0.7% was until recently an unknown company to many investors. However, the turning point came when legendary investor Warren Buffett began investing in the company and recently decided to ask to buy up to 50% of the company. Normally, I would tell you at this point that investing in $OXY+0.7% no longer makes sense at this price. The difference, however, is that it may still not be too late to invest even now, as there is speculation about whether Buffett has his eye on the entire company, which would shoot the stock even higher. Today, we look at the top 5 reasons why this purchase could likely happen.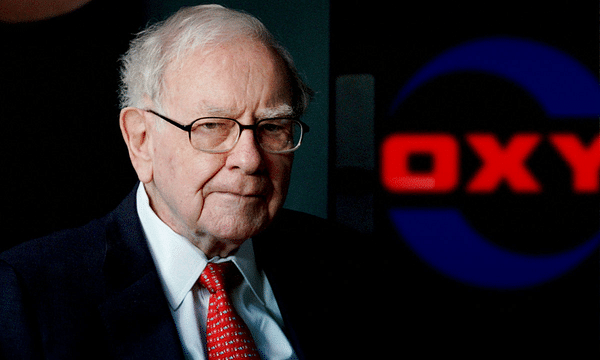 Will Buffett buy all of $OXY+0.7%?
A number of investors have been addressing this recently, or rather, whether Buffett will eventually buy all of $OXY+0.7% and take the stock to new highs this year. To be honest, the chance really does exist. His Berkshire certainly has the resources to do it, and I'm going to show you five reasons that could help.
Buffett's traits are quite familiar with the profile he's maintained in the public eye over the past half-century. Using what is known, today we will look at his basic metrics and requirements for a company he might buy. Does OXY meet the complete package of requirements?
Why might he buy $OXY+0.7% whole?
1. $OXY

+0.7%

generates a lot of cash
Warren loves businesses that generate a lot of cash. $OXY+0.7% fits that metric and generated more cash in Q2 ($5,329 billion) than all of Berkshire Hathaway Energy (BHE generated $5,147 billion) - it is a wholly owned subsidiary of Berkshire.
Buffett also owns a significant chunk of Chevron (CVX). CVX has several things in common with OXY. They both show huge amounts of cash and are #1 and #2 when looking at landowners in the Permian Basin.
Buffet needs cash flow for BHE. Their renewables segment is building more solar, wind, hydro, geothermal and energy mineral farms. BHE spent $3.382 billion on capex in Q2 (2022). Capex = cost of capital.
In addition, these oil and gas companies are getting into the renewable energy business and using their oil-generated profits to fund these projects.
2. The Permian Basin is a place that needs to be considered
There are many oil and gas producers. But none with the footprint in the Permian Basin that OXY and CVX (both of which Buffett has invested in) have. OXY owns or has leased about 3.0 mm acres in the Permian Basin.
There's a lot of oil in the Permian
Estimates vary, but it is estimated that the Permian could contain as much as 46.3 billion barrels of oil, mostly in the prolific Wolfcamp and Bone Spring reservoirs. This is sometimes referred to as a "stacked play," meaning there are multiple reservoir horizons, stacked vertically, giving oil companies multiple drilling targets. There are also estimates of around 75 billion barrels in play (it's hard to say the exact number, but there's certainly the possibility of decades of production).
Plus, OXY overlays the deepest, thickest parts of the Wolfcamp.
At current production rates, about 4 mm BOEPD, this could mean that there are 30-40 years of exploration and development left in the Permian. BOEPD = Barrels of oil equivalent per day.
3. Management meets all criteria
Buffett is known for picking managers and sticking with them even in tough times. When Warren gave Vicki Hollub (CEO of $OXY+0.7%) ten billion dollars to complete the Anadarko deal, he actually "hired" her to manage his money. Let's understand something, Buffett loaned Vicki Hollub $10 billion, not Occidental Petroleum, regardless of the name of the entity on the loan documents. Among other things, I think he may have admired her bold approach.
Vicki Hollub was absolutely the right person to integrate the two companies. No one knows the Permian Basin like she does. She worked at Permian for most of her 30+ year career, in various roles from drilling engineer to regional vice president for OXY. When she speaks, that deep knowledge of the area permeates the conversation.
Additionally, Buffett confirmed some sympathy for us, as he said at the first mention of an investment in OXY that he completely agrees with management's actions and would do the same in their case.
Buffett first pounced on Occidental $OXY+0.7% stock after seeing a transcript of the company's fourth-quarter earnings call on Feb. 25.
"I read every word and said, 'This is exactly what I would do,'" the billionaire told CNBC television. "We started buying on Monday and we bought everything we could."
4. OXY is targeting areas where Buffet's BHE hasn't yet taken root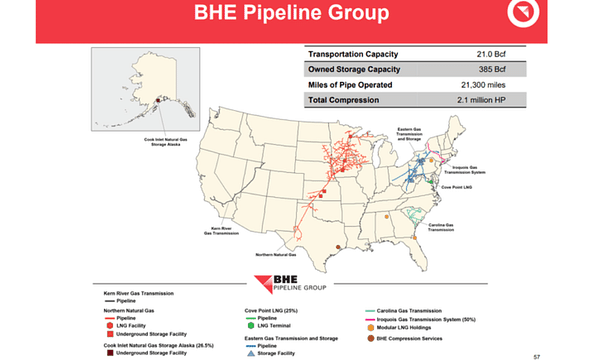 BHE
OXY owns 51% of Western Midstream Partners (WES), which, as you can see below, fills a significant gap in the BHE footprint.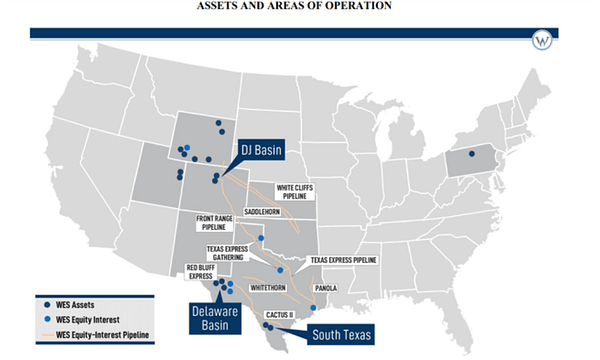 WES controls key export infrastructure to markets not currently served by BHE.
5. Company's complexity and diversification
Leaving aside the fact that OXY generates a lot of cash, is well positioned for further growth and holds stakes in important areas, I must also mention its successful deleveraging and diversified revenue portfolio.
I've written about this more than once, but it's worth mentioning even now. Occidental is not just fixated on oil, as it also has its chemical segment and is actively pursuing carbon capture technology, which could bring many successes in the future.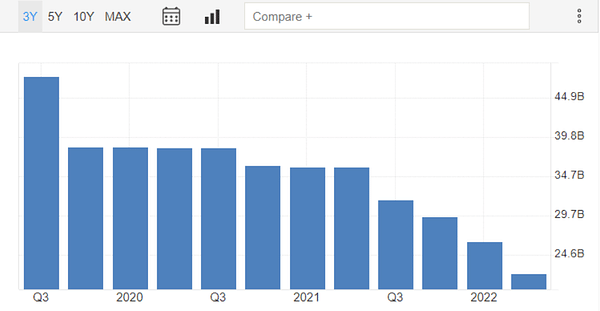 The gradual deleveraging is very visible.
There are also other positives. For example - What will be done with the cash once the debt reaches the required level? The answer is simple - Invest in itself and return confidence to shareholders in the form of dividends and buybacks.
Conclusion
Personally, I have held a stake in $OXY+0.7% for some time now, so fortunately the question about Buffett buying another stake is not that much of a concern (of course, I would welcome it). However, the focus of this article is that a number of investors are thinking about investing in OXY with a question mark hanging in the air over extending Buffett's stake. According to a poll I did on social media, it turns out that our investors most likely expect to increase the stake at a minimum (up to 70% voted for this option) and some 20-25% think they will buy OXY whole, with the rest then considering not expanding the position anymore. The reaction to the other news about a possible purchase perhaps does not need to be described... Until recently, Occidental was consistently in the $50-60 per share range. Buffett's announcement of buying up to 50% of OXY led to the stock jumping more than 10% and it has been above $70 ever since. What would news that Occidental would eventually buy the whole thing do? You know very well. However, I leave the final investment decision up to you. Today, I just wanted to shed some light on the qualities of OXY and the reasons that may lead the giant to make another purchase.
Please note that this is not financial advice. Every investment must go through a thorough analysis.
Read the full article for
free

? Go ahead 👇
Do you have an account? Then
log in
. Or
create a new one
.