NIO's unique strategy to build a giant following of fans and shareholders
Chinese companies can certainly be different from European or American ones, as Asia has a specific mentality, as evidenced by the activities of $NIO-1.4% . Nio is building part of their strategy on building fierce brand loyalty, which may be a determinant of their long-term future success.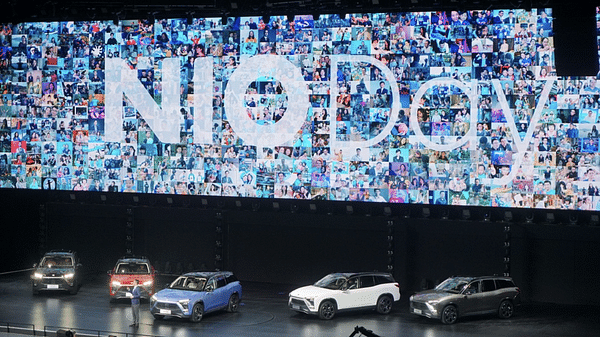 How one Chinese EV manufacturer is winning the hearts of EV owners.
NIO representatives recently announced which NIO DAY 2022 location they have decided on, and it's Hefei in China's eastern Anhui province, but only after loyal customers from across the country competed to nominate their locations. Promotional posters were designed, local authorities were attracted, video clips were produced and even free gifts were sent out. A shortlist of 10 and then 3 cities was drawn up, with Hefei eventually winning out over the southern city of Guangzhou and the central city of Xi'an.
https://www.youtube.com/watch?v=WakRYsb7i5M&ab_channel=CnEVPost
NIO DAY
The event, called Nio Day, was originally introduced by the carmaker in 2017 in Beijing, where it launched its first electric model - the ES8 sports utility vehicle.
Since then, the event has grown in popularity and is where NIO unveils new models and brings many of its customers together in one place to talk about future business plans.
NIO is keen to impress its customers, even in the form of entertainment, for example. Past performers have included Imagine Dragons, Bruno Mars and the popular DJ Alan Walker.
https://www.youtube.com/watch?v=dCZzA8KkWNg&ab_channel=NIOSource
A unique strategy
The company's goal is to create a sense of loyalty among their customers, who then spread amazing brand awareness among their family, friends or neighborhood as a form of "payback".
CEO William Li explained in an interview in June 2021 that the strategy is called "ripple mode", referring to the ever-widening circles caused by throwing a single stone into a pond.
Li truly believes in this system, and credits customers for helping to save the company as it navigated the death valley phase. In its first four years of existence, Nio recorded losses of $5 billion and was losing nearly $5 million a day in the second quarter of 2019.
The sale of 8,000 cars in the fourth quarter of 2019 proved crucial for the company to overcome this phase.
Nio remembers these times, as confirmed by Li's statement:
"That's why I always say our customers saved us," Li said last June. " If we had sold 500 or 1,000 fewer vehicles, it could have caused a complete collapse."
The company wanted to give back to customers and build an exceedingly high quality and loyal relationship, so they made a few unique gestures that will make them 100% different from the competition.
What are these gestures?
For their first Nio Day in 2017, Nio paid for flights to the event and luxury hotels for anyone who ordered an EV in the 12 months prior to launch.
Private NIO houses - private clubs for EV NIO owners.
On Nio Day later this year, Nio will offer free bags of rice to anyone who visits a Nio battery exchange station and give away free tickets to Anhui's major tourist attractions, including the UNESCO-listed Yellow Mountain.
Companies that win the hearts and minds of their customers or potential customers can lay a solid foundation for long-term future profits. Shipments of new-energy vehicles in China (defined as pure electric cars and plug-in hybrids) more than doubled in July to about 486,000 units, accounting for more than a quarter of total new car sales, according to China Passenger Car data.
There is no doubt that this strategy can be highly effective in the future, even for carmaker Greely, which has certainly taken inspiration from NIO and has begun to push "co-creation with users" for various phases of its business, including product design, marketing and community outreach.
The question is certainly whether this strategy is too costly for these companies and these activities make up a relatively large part of the expenditure. Chinese automakers are still struggling with activities to contain the Covid-19 pandemic. This has caused production delays and supply chain disruptions, further pressuring profitability.
https://www.youtube.com/watch?v=0j9-kycz8xA&ab_channel=NFSMOTORSPORT
NIO 2022 will certainly be an enjoyable and very attractive event for this company and it will in turn raise their profile and help them further build a strong brand and clientele connection, which is what they are building a successful strategy on.
Read the full article for
free

? Go ahead 👇
Do you have an account? Then
log in
. Or
create a new one
.