Ray Dalio still believes in the collapse of Europe: What about his $10.5 billion shorts against European companies?
Bridgewater Associates of legendary investor Ray Dalio announced in one of its statements that it has created short positions of $10.5 billion against European companies. Some at first called it a crazy move, but in the end it won Bridgewater recognition as many experts see Europe as having bigger problems than the US. The latest announcement shows (among other things) a number of new developments and, most importantly, some changes to the portfolio and its shorts.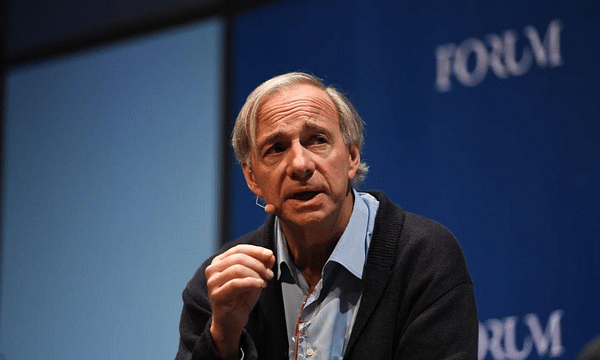 Legendary investor Ray Dalio
Who is Ray Dalio?
Ray Dalio is an American billionaire investor and hedge fund manager who has been one of the two investment directors of Bridgewater Associates, the world's largest hedge fund, since 1985.
Bridgewater is the largest hedge fund in the world with approximately $150 billion in assets. Since its inception in 1975, Bridgewater has returned $52.2 billion in profits to its investors - more than any other hedge fund on the planet.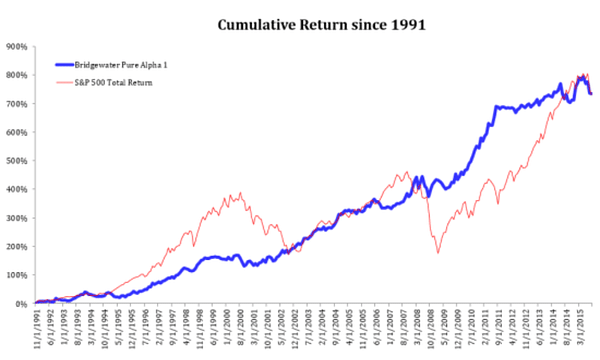 Unfortunately, I couldn't track down the complete chart until today, so I'm attaching at least the performance of this fund from 1991-2015.
A pessimistic economic outlook in the lead?
The Fed's aggressive rate hikes are casting a huge shadow over the stock market. Among the pundits sounding the alarm, Ray Dalio in particular is one of those who is very skeptical.
In a June LinkedIn post, Dalio warned that Fed tightening could lead to stagflation - an economic situation marked by high inflation but without the robust economic growth and employment that usually come with it.
"In the long run, the Fed will most likely chart a middle course that will take the form of stagflation." And recently, Greg Jensen, Bridgewater's chief investment officer, said the Fed's hawkish stance still hasn't been fully appreciated.
"In summary, let's say the equity markets may yet fall some 20-25%," he predicts.
What short positions are involved?
In June, it was reported that Bridgewater Associates had made a $10.5 billion bet against European companies, including ASML Holding $ASML-1.3%, TotalEnergies SE $TTE+0.9%, Sanofi $SNY-0.7% and SAP SE $SAP+1.0% and a number of others (but these were significantly smaller amounts, so I won't mention them).
In July, Bridgewater's large short positions against the stocks of more than 50 European companies totaled roughly €10 billion, suggesting that the hedge fund firm could potentially be pessimistic about companies in Europe.
However, the latest report shows us that only a fraction of these short positions remain 👇
Now Bridgewater is only going up against two financial institutions: Banco Santander SA($SAN+1.9%) and ING Groep($ING+0.1%). These bearish positions amount to €475 million, which is really a fraction of the original plans and investments from June.
Still, Bridgewater remains quite pessimistic:
Given that the stocks that were shorted are all part of the Euro Stoxx 50 index, it seems that the firm has replicated the index, at least in part - potentially as a way to take a position and very likely hedge in some form.
However, as of last Wednesday, all but one of these positions have been cut below the 0.5% threshold, leaving only Banco Santander and ING Groep at 0.59%. How investors should interpret this latest move is unclear (we don't know the statement). For starters, shorts were held just above the disclosure threshold. It is unclear whether the positions have now been completely removed or simply reduced to just below the threshold.

This is the third iteration of this huge short position, which ended during a short period in the stock markets. The Euro Stoxx 50 has rallied since June, when Bridgewater's position appears to have been closed, with a loss of almost 9%. This suggests that they lost money on the trades and may have been forced to reduce short positions. But as I write, I don't know the specific statement, so these are my thought processes to justify the change in strategy.
Conclusion
The Bridgewater portfolio has seen many large and small changes that I have not mentioned today. The article was primarily directed at Bridgewater's short positions, which was very skeptical of Europe at first, but after 2-3 months has largely closed out its short positions. If you're interested in what else one of the world's largest funds has been including in their portfolio, drop me a line in the comments and I can follow up this article with a follow-up looking at what they believe a lot in and where they are aggressively increasing their positions.
Please note that this is not financial advice. Every investment must go through a thorough analysis.
Read the full article for
free

? Go ahead 👇
Do you have an account? Then
log in
. Or
create a new one
.