The recession will probably come and it may well be very different than anyone expected. What to prepare for?
According to most investors, the arrival of a recession is only a matter of time. Everyone is talking about it, everyone is afraid of it. But what if it's completely different than we thought?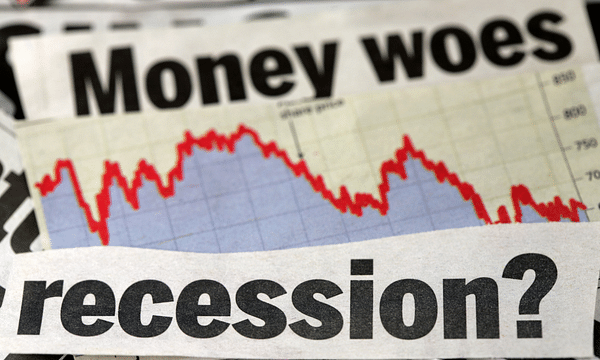 As the U.S. stock market has notched one of its biggest declines in a decade, the outlook for 2023 has been dominated by concerns that efforts by the Federal Reserve and other major central banks to curb soaring inflation will trigger a significant economic slowdown.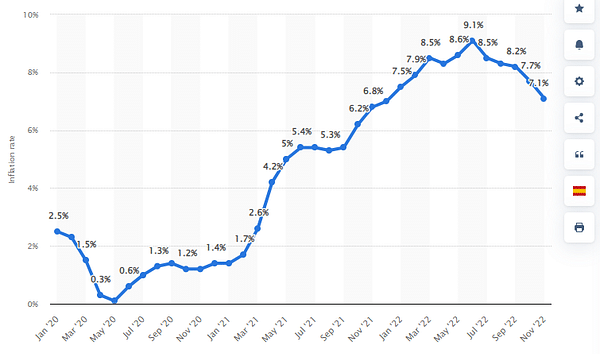 It's just that there is no such thing as a recession. It can take different forms and different scenarios. What could it look like?
A shallow and short recession
Many analysts believe the economy has enough inertia to grow slowly until at least the first half of 2023.
"Certainly, a severe recession would be bearish for stocks, however, given the resilience of the U.S. economy and the tight labor market, we expect a slowdown or a shallow and short recession," said Nancy Tengler, managing director and chief investment officer at Laffer Tengler Investments. "This could allow stocks to rise in the second half of 2023 (after a volatile first quarter)."
https://www.youtube.com/watch?v=SZqGx0BlSa4&t=13s
U.S. employers hired more workers than expected and raised wages in November, shaking off most recession fears. November's jobs report showed the economy gained 263,000 jobs last month, beating Wall Street expectations, while the unemployment rate held steady at 3.7% and remained near a half-century low.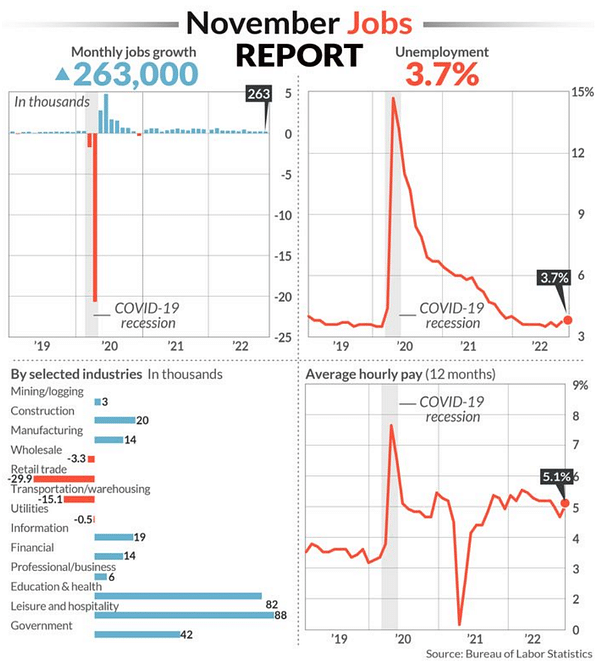 However, job growth is expected to slow in 2023 as higher interest rates curb investment and more industries fully recover their pre-fall headcount. The Bureau estimates that the number of employed Americans will increase from 158 million in 2022 to 174 million in 2052.
No recession or little recession
Goldman Sachs economists say in their report that the effects of the recession will be tempered. They also expect that it is comfortably possible that the economy narrowly avoids a recession as inflation weakens and unemployment rises slightly.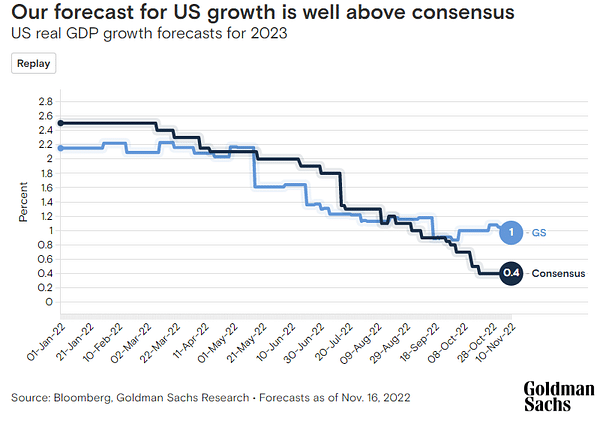 "There is a 35% probability that the United States will slip into recession next year, according to our economists, an estimate that is well below the median of 65% among forecasters in the Wall Street Journal survey," Goldman Sachs economists said in their 2023 outlook. "The U.S. may avoid a downturn in part because the data on economic activity are nowhere near recession."
Sticky recession
While many forecasters believe that the 2023 recession will be mild and brief, followed by a strong recovery, David Kelly of J.P. Morgan said the economy is unlikely to pull out of it.
He argues that rather than falling off an "economic cliff", such a recession would be akin to sliding into an "economic quagmire", meaning that the economy would struggle to bounce back. The good news is that a prolonged period of sticky recession should dampen inflation and force the Federal Reserve to reverse a significant portion of its monetary tightening in 2022, Kelly wrote in a November note.
"The flip side, however, is that a mild recession would probably not create much of the expected demand. Moreover, if we were to see only a modest increase in unemployment, the increase in employment and income from a decline in the unemployment rate would also be smaller than usual," he said. "Perhaps most importantly, unlike all four recent recessions, there is unlikely to be any significant fiscal stimulus to get the economy moving again."
What do you think? What form of recession, if any, will come?
Disclaimer: This is in no way an investment recommendation. This is purely my summary and analysis based on data from the internet and other sources. Investing in the financial markets is risky and everyone should invest based on their own decisions. I am just an amateur sharing my opinions.
Read the full article for
free

? Go ahead 👇
Do you have an account? Then
log in
. Or
create a new one
.