U.S. stocks fell sharply on Friday, with major indices disagreeing on weekly direction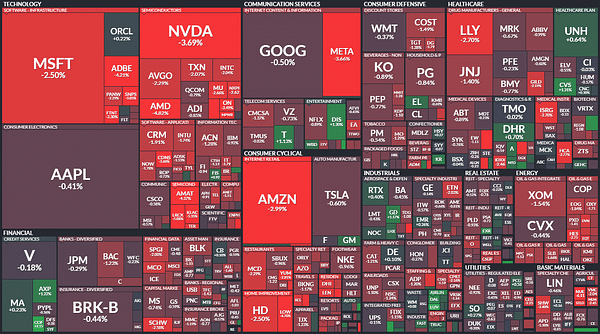 US stocks weakened significantly on Friday, with chipmakers and large technology companies behind their decline.
The Dow index lost 0.83% to end trading at 34,618.24 points, the broader S&P 500 fell 1.22% to 4,450.32 points and the Nasdaq Composite technology market index slumped 1.56% to 13,708.33 points. The VIX volatility index jumped 7.57% to 13.79 points and the yield on 10-year US government bonds rose around five basis points to 4.336%.

Shares of chipmakers weakened on demand concerns. These were fuelled by strikes at the US plants of carmakers General Motors, Ford Motor and Stellantis, among others. Shares in online retailer Amazon (-2.99%), software giant Microsoft (-2.50%) and other large technology companies came under pressure as US government bond yields rose.
Preliminary results of a University of Michigan survey showed that the consumer confidence index fell to 67.7 points in September from 69.5 points in August. This marked the second consecutive month of decline.
Investors' attention is now turning to the US Federal Reserve, which will decide on interest rates next week. According to Reuters, financial markets continue to expect the Fed to leave interest rates unchanged next week.
The European Central Bank this week raised its key interest rate by a quarter of a percentage point to 4.50%, while some analysts had expected the ECB to keep rates unchanged.
Over the past week, the Dow added 0.12%, the S&P 500 fell 0.16% and the Nasdaq Composite shed 0.39%.
The dollar weakened slightly on Friday
In the foreign exchange market, the dollar weakened slightly on Friday following a report of a drop in consumer confidence in the United States. The euro gained around 0.2% against the dollar to $1.066 around 22.00 CET.

Friday's highlights in US markets
Around 13,000 workers at the three US plants of Detroit automakers General Motors (GM), Ford and Stellantis went on a simultaneous strike for better wages early Friday morning. It is the first time in the 88-year history of the UAW auto workers' union that workers at all three automakers have gone on strike simultaneously, media reported. U.S. President Joe Biden said employers should share their profits with workers, and announced he was sending his staff to Detroit to help find a compromise.
US internet company Google has provided a small group of companies with its new artificial intelligence (AI) model called Gemini. Citing informed sources, The Information reported that Google wants to use the tool to compete with OpenAI's ChatGPT-4 model, which is backed by Microsoft.
US company Apple will release a software update for users of its iPhone 12 devices in France. It wants to settle a dispute with regulators there, who ordered the suspension of the phone's sales for violating electromagnetic wave limits. The French government welcomed the move and said it would test the update quickly. That could allow sales of the model launched in 2020 to resume, Reuters reported on Friday.
The US export price index fell 5.5% year-on-year in August (July: -8%, revised from -7.9%), and rose 1.3% month-on-month (July: +0.5%, revised from +0.7%). The US import price index fell by 3% yoy (July: -4.6%, revised from -4.4%), and increased by 0.5% m/m (July: +0.1%, revised from +0.4%).
US industrial production rose 0.4% m/m in August (estimate: +0.1%, July: +0.7%), up 0.2% y/y (July: flat, revised from -0.2%).
The University of Michigan's Consumer Confidence Index fell to 67.7 points in September according to preliminary data (estimate: 69.1 points, August: 69.5 points).
The New York Fed's industrial activity index (Empire State index) rose to 1.9 points in September (estimate: -10 points, August: -19 points).
The main events of the past week on the US markets
Meta Platforms is working on a new artificial intelligence (AI) system that is expected to be as powerful as the most advanced model offered by OpenAI. This was reported by The Wall Street Journal, citing informed sources. Facebook's parent company wants to have its new AI model, which is expected to be several times more powerful than its commercial version called Llama 2, ready next year.
QUALCOMM announced that it will supply Apple with 5G modems for iPhones until 2026.
Chevron Australia does not expect to reach an agreement with unions in the current dispute over wages and working conditions. Instead, it will try to use a new, untested legal option to stop strikes at its Gorgon and Wheatstone liquefied natural gas (LNG) facilities. Reuters reported on Monday. Unions at both facilities, which account for more than five percent of global LNG supplies, are now preparing for a full-scale strike.
U.S. technology company Apple on Tuesday unveiled a new line of smartphones, the iPhone 15. The company has switched from its own charging connector for the line to the more widespread USB-C system, the uniform use of which the European Union has decided to enforce. The company also unveiled a new line of smartwatches, the Apple Watch, on Tuesday. On those, a certain action, such as stopping an alarm or taking a call, will be activated by the user tapping their index finger twice on their thumb without touching the watch itself.
German sandal maker Birkenstock will unveil a plan to go public this week. It is expected to do so by registering with the US Securities and Exchange Commission (SEC), the Handelsblatt daily reported, citing sources in financial circles, and other German media picked up the story. The company's shares are expected to start trading on the New York Stock Exchange on 9 October.
US carmaker Tesla and its suppliers will triple their investment in a planned plant in the city of Monterrey in the Mexican state of Nuevo León to $15 billion. Citing the state's governor, Reuters reported on Tuesday.
Ireland's Smurfit Kappa has agreed to merge with its US rival WestRock. The merger of the companies will create one of the largest paper and packaging producers in the world, with a market value of nearly $20 billion. The companies announced this in a press release on Tuesday.
Chinese short-video sharing app TikTok has launched online sales in the United States after months of trial runs. The company, which is part of the ByteDance Internet venture, announced the news on its blog on Tuesday. TikTok is trying to emulate the success achieved in the US by rival platforms Shein and China-based Temu.
In the United States, a lawsuit against Google over allegations of abuse of market position began on Tuesday. With many witnesses in attendance, the trial will last ten weeks, news agencies reported. The trial is important for the administration of US President Joe Biden, which is positioning itself as a champion of competition but is having trouble convincing the courts of its view.
The small business optimism index (NFIB) fell to 91.3 points in August (estimate: 91.6 points, July: 91.9 points).
The annual rate of consumer price inflation in the United States increased to 3.7% in August from 3.2% in July, the US Labor Department said in a report on Thursday. The rise in inflation was stronger than analysts had expected. It is also the biggest increase in more than a year. Energy and many product prices are higher. But so-called core inflation came in lower than expected. Analysts say that could prompt the U.S. central bank to leave interest rates unchanged next Wednesday.
Statutory regulations on artificial intelligence (AI) are definitely needed, but should not be created in a hurry, US Senate Majority Leader Chuck Schumer, a Democrat, said after meeting with the heads of the biggest US technology companies, according to Reuters. Mark Zuckerberg, Elon Musk, Bill Gates and 19 other business leaders spent several hours with US senators on Wednesday. Musk described the meeting as historic and a service to humanity, while some politicians criticised the fact that it was held behind closed doors.
Arm's share price in the IPO reached $51 apiece. A source familiar with the situation told CNBC.
German shoe maker Birkenstock has filed for an initial public offering (IPO) in the U.S. It became the second major European company to seek a listing on the U.S. stock market this month. The company did not disclose financial details of the offer in the application. Bloomberg, citing its sources, said the offer could value the company at up to eight billion euros.
U.S. technology company Apple (-1.19% on Wednesday) raised prices for its latest iPhones in some key markets including China, Japan and India. In the United States, however, prices remained flat.
The ratio of global debt to world economic output fell for the second year in a row last year. However, it remained above the levels seen before the arrival of the covid-19 pandemic, the International Monetary Fund said on Wednesday. The ratio of global debt to global gross domestic product fell to 238 percent last year from 248 percent in 2021, according to the IMF. In nominal terms, the debt stood at $235 trillion, down $200 billion from 2021.
China has not issued a ban on the purchase and use of foreign phone brands, the Chinese Foreign Ministry said on Wednesday. It was responding to media reports that some government agencies and companies had ordered employees to stop using Apple's iPhones at work.
Howard Schultz, the founder of US coffee chain Starbucks, is leaving the company's board of directors. Schultz has also been running the company on an interim basis since last spring, a position he relinquished in March this year. Schultz's departure is effective immediately. Wei Zhang, who was an advisor to Chinese internet company Alibaba, will become a new board member in October. The company announced the changes in a press release.
British chip designer Arm has set the price for its initial public offering in New York at $51 apiece, at the high end of its proposed range. That values the entire company at US$54.5 billion. The initial offering is the largest this year and comes nearly seven years after the company was acquired by its current owner, SoftBank Group, for US$32 billion. The company's shares will begin trading on the New York Stock Exchange on Thursday.
US entertainment company Walt Disney is in talks to sell its ABC television network to local TV station operator Nexstar Media Group. Citing sources familiar with the talks, Bloomberg reported on Thursday.
In the United States, an antitrust case against Google continues, which could change the future of the Internet. The U.S. Justice Department claims the company has gotten rich because people stay with its search engine, which is set as the default on many devices. The government will wrap up questioning on Thursday of Antonio Rangel, who teaches behavioral biology at the California Institute of Technology. Other witnesses in the case include James Kolotouros of Google and Brian Higgins of Verizon Communications.
The European Commission intends to lodge a formal complaint against the practices of US software company Microsoft in relation to its Teams video conferencing application. It is not satisfied with Microsoft's plan to separate the application from the Office suite of office software, which the company hoped to use to allay competition concerns. Citing sources familiar with the situation, Bloomberg reported on Thursday.
The number of new claims for unemployment benefits in the United States in the week ending September 9 rose to 220,000 from 217,000 in the previous week (revised from 216,000), when it was expected to rise to 225,000. The number of continuing claims in the week ending September 2 rose to 1.688 million from 1.684 million in the previous week (revised from 1.679 million), when a rise to 1.695 million was expected.
U.S. retail sales rose 0.6% m/m in August (est.: +0.2%, July: +0.5%), up 1.6% y/y (est.: +1.2%, July: +0.8%).
The US Producer Price Index rose by 0.7% m/m in August (estimate: +0.4%, July: +0.3%), up by 1.6% y/y (estimate: +1.2%, July: +0.8%).
Last week's earnings season
Oracle Results: Adjusted earnings per share of $1.19 (estimate: $1.15), revenue of $12.45 billion (estimate: $12.57 billion).
Adobe 3QFY2023 results: earnings per share $4.09 (estimate: $3.98), revenue $4.89 billion (estimate: $4.87 billion).
Lennar results in 3QFY2023: Earnings per share $3.91 (estimate: $3.51), revenue $8.73 billion (estimate: $8.45 billion).