MetLife is one of the world's global insurance companies. Can it be a good choice for investors?
Yesterday I analysed the insurance company Unum, so there is no harm in looking at competitors and other influential players in the industry. So today we'll look at MetLife, which is similar in many ways. Which of these two insurers seems like the more attractive choice?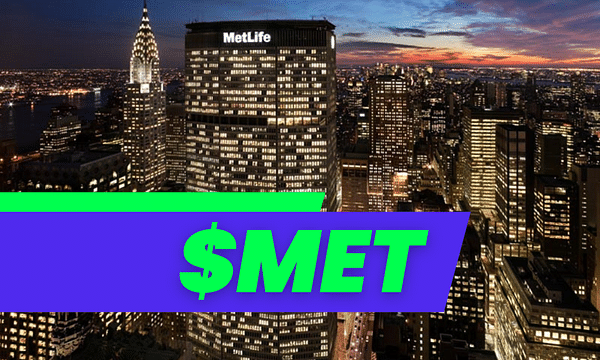 What does the company do?
MetLife $MET is an international company focused on providing financial and insurance services. The company specializes in life insurance, accident insurance, health insurance, retirement plans and asset management. MetLife offers its services in many countries and is one of the largest insurance companies in the world.
The main products and services offered by MetLife include:
Life insurance: MetLife offers various types of life insurance, including permanent and temporary insurance. These products allow customers to protect their loved ones in the event of their death.
Accident Insurance: MetLife provides accident insurance to help customers protect their families from unexpected expenses in the event of an accident.
Health Insurance: MetLife offers health insurance that allows customers to access health care and helps cover the cost of medical services.
Retirement Plans: MetLife provides different types of retirement plans that allow customers to plan for their financial future.
Asset Management: MetLife provides asset management services for individuals, businesses and institutional investors.
Which markets does it operate in?
MetLife is an international financial and insurance services company. It operates in many markets around the world, including North America, Europe, Asia and Latin America.
Competitive advantages
Global presence: MetLife is one of the largest insurance companies in the world and has a global presence in many countries. As a result, the company has strong positions in many markets and can offer its products and services to many millions of people around the world.
Long history: founded in 1868, MetLife has more than 150 years of experience in financial and insurance services.
A wide range of products: MetLife offers a wide range of financial and insurance products that include life insurance, accident insurance, health insurance, pension plans and asset management. This broad offering enables the company to meet the diverse needs and requirements of its customers.
Finance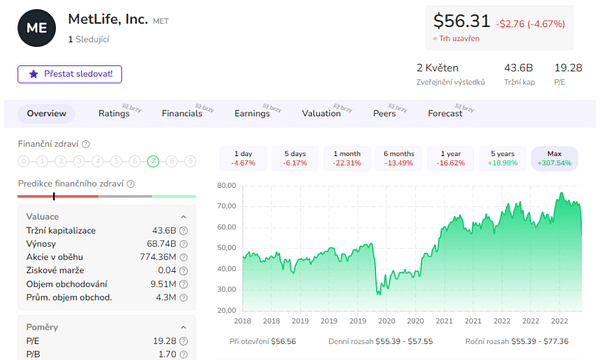 Looking at the company's profit and loss statement for the last twelve months (TTM), the company had total revenue of $68.95 billion. This represents an increase from last year's sales of $66.04 billion. However, total expenses also increased from $57.91 billion to $66.09 billion in the same period, resulting in lower pre-tax income of $2.86 billion compared to $8.13 billion in the previous year.
After tax provisions, net income for common shareholders was $2.35 billion, down from $6.35 billion in the prior year. This resulted in diluted earnings per share of $7.70, which was the same as the prior year.
Looking at the company's EBIT, it was $3.80 billion in 2022, compared to $9.05 billion in the previous year. Depreciation and amortization was $673 million, up from $630 million in the prior year.
Overall, MetLife's sales increased year-over-year, but costs also increased, leading to lower pre-tax income and net income available to common shareholders. The company's EBIT also declined, indicating that operating profitability has declined.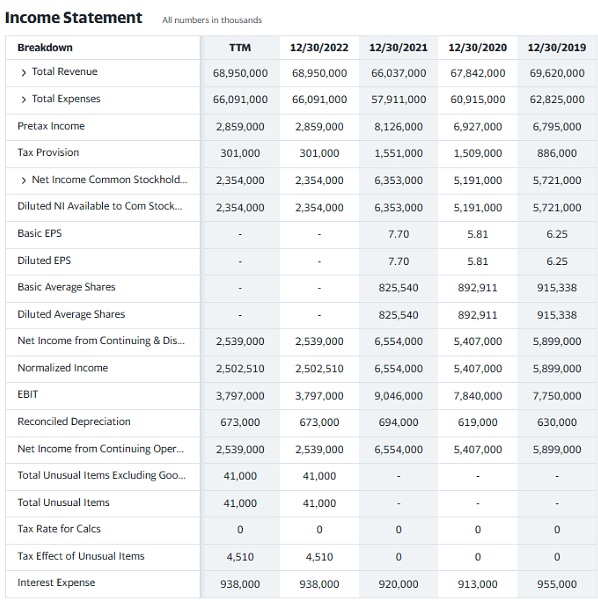 View of margins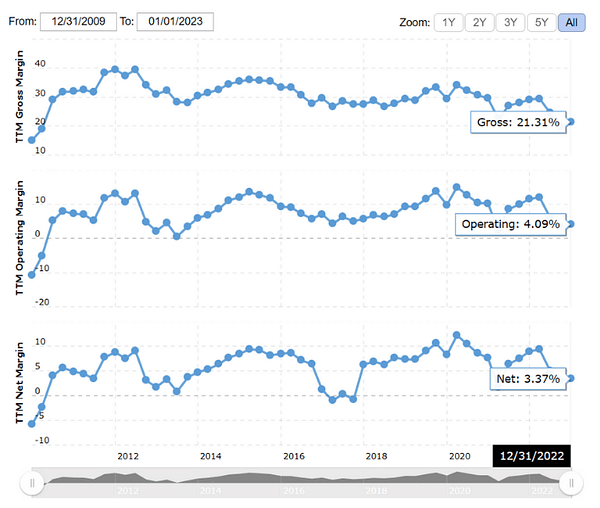 Valuation

The company has a market capitalization of $45.20 billion and a dividend yield of 3.55%, but has seen negative performance in recent years, with the stock price down 22.21% year-over-year.
The P/E ratio of the company is 22.14 which is relatively high compared to its industry peers, when we look at the PEG ratio which is 3.64 so on first impression we might think that the stock is overvalued.
The company's earnings per share has declined by 62.90% this year, which is a worrying trend.
The company has a debt-to-equity ratio of 0.66, suggesting that it has a relatively moderate level of debt (however, even this is above the sector average). The company's return on equity (ROE) is 6.60%, which is so average compared to its industry peers.
Analysts predict:

The 16 analysts offering 12-month price forecasts for MetLife have a median target of 83.00, with a high estimate of 90.00 and a low estimate of 71.00. The median estimate represents a +47.40% increase from the last price of 56.31.
Seeing this and comparing it to yesterday's Unum Group analysis, it is the Unum insurance company that I find much more attractive in terms of results and fundamentals and returns - Analysis of Unum Group, one of the leading players in the disability insurance industry | Bulios.
What do you think of the company? 🤔
Please note that this is not financial advice.