Where $AAPL+0.7%, there goes the whole market or a warning to stock bulls.

Shares of Apple lost 1.71% on Tuesday, the day it unveiled new devices led by the iPhone 15. They are still writing off over 10% from their all-time high on August 1, and are thus in a correction. Investors who put money across the board in the S&P 500 would certainly like to see better stock market performance from the largest publicly traded company.
Apple shares are in a correction.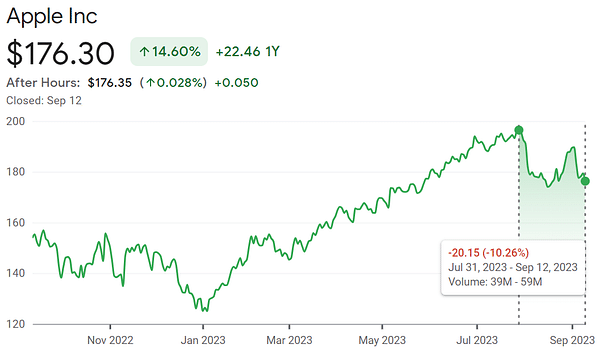 The S&P 500 Index has written down less than three percent since its July 31 peak and, based on closing readings from individual trading days, has fallen less than 5% at most so far.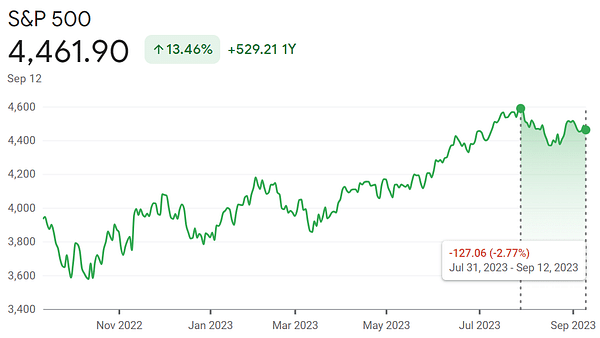 Obviously, Apple's stock price, due to the title's heavy weighting in the S&P 500, strongly influences the performance of the benchmark itself. And it is therefore not such a surprise that on a significant majority of trading days, the index rises when Apple shares gain and falls when the iPhone maker's securities lose.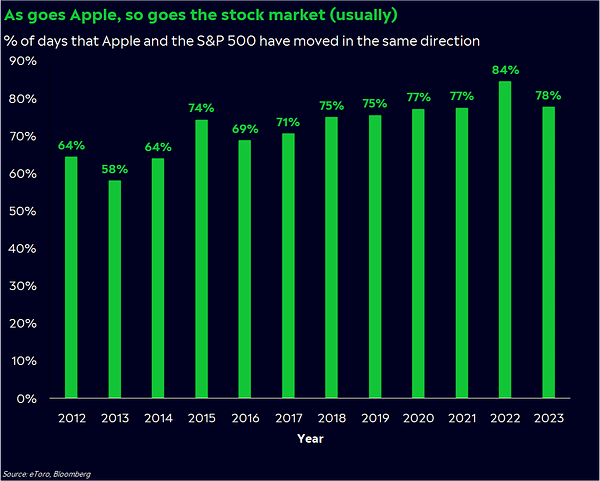 Meanwhile, this September is the third month in a row so far that Apple has underperformed the index. That's not exactly a common occurrence; the last time it happened was in late 2020. It's worth noting, then, that this year's significant rally in the S&P 500 has taken place with Apple stock (and a number of other big tech titles) outperforming most of the time. Thus, its current underperformance is not exactly a positive sign for the overall market.